Stress is one of those words that is often used and comes in millions of flavors; #KeySuccessIdeas - any two people picked at random know what stress means to them, yet when they start describing it they will wildly diverge. We all experience Stress in our own unique way, therefore our strategies to overcome it have to be tailored with our own input. 
As an Entrepreneur Strategist I will focus on the Stress Real Estate Agents, Entrepreneurs, and Independent Contractors deal with the most; there are recurring patterns that we have identified as an industry, along with simple strategies and insights to reduce the impact of Stress in our lives. The first major realization we must have is that a great deal of Stress is self-inflicted; not externally imposed on us. We must learn to clearly identify the stressors we put on ourselves before we attempt to fix the stressors society and the outside world impose on us. 
Not enough sleep! When you don't get enough sleep you are subject to irritation quite easily; this is due to the feeling of being in a fog with low visibility. As a society we do not respect the restorative nature of Sleep; you hear many bragging that they function on 4 to 6 hours of sleep, when neuroscientists recommend a minimum of 7 to 8 hours. For some reason we are capable of finding 3 to 5 hours of binging time in front of screens, but resist giving that time to ourselves in the form of sleep. If you truly want to become more effective as an entrepreneur try to go to sleep between 9:30pm and 10:30pm and wake up between 5am and no later than 6am. It will take you about 6 to 8 weeks to turn it into a habit, but once you do you will love it - you'll tell yourself how did I function before? PS: Get rid of screens in your Bedrooms; and stop lying to yourself by saying that TV helps you sleep. 
The second aspect of self created stress is "Negative Self-Talk." You may not see a direct correlation between the negative things you tell yourself and Stress, but oh my; they go like hand in glove. The more you doubt your abilities the more you will tend to question yourself; which causes you to be anxious about the outcome. Statements like "I am not good enough" become true for you when you let them playback in your mind; catch them and replace them with: "Others can do this task and so can I!" or "This is not rocket science, I can figure this out." What I want you to consider is why not give yourself a break; have some compassion for yourself. Give yourself moments in which you make mistakes and the time to learn from them. Realize that most of us learn through repetition, and we get better with Progress NOT Perfection. 
If you are struggling with Stress and Negative Self-Talk, I highly recommend that you have a journal with you at all times. Slow your processes down and catch the instances in which you find yourself saying something negative about yourself, write in your journal the counter positive and/or constructive self-talk to remedy it. If you start experiencing stress, grab your journal and write explicitly what is stressing you at that moment. You do not need to write or come up with a solution to the stress, just describe what you are feeling and why you are feeling at that moment. This process of clarity will empower you, and simple solutions will emerge organically. Remember this idea, learn to go slow in order to go fast! I promise you 30 days of this deliberate important work and Stress will be relegated to its proper place, and become a source of growth not failure. 
Consider these three positive quotes: "It's not the load that breaks you down, it's the way you carry it." -- Lou Holtz. "The greatest weapon against stress is our ability to choose one thought over another." -- William James. And this gem by Wayne Dyer: "You can't always control what goes on outside, but you can always control what goes on inside."  - #8WeekSuccess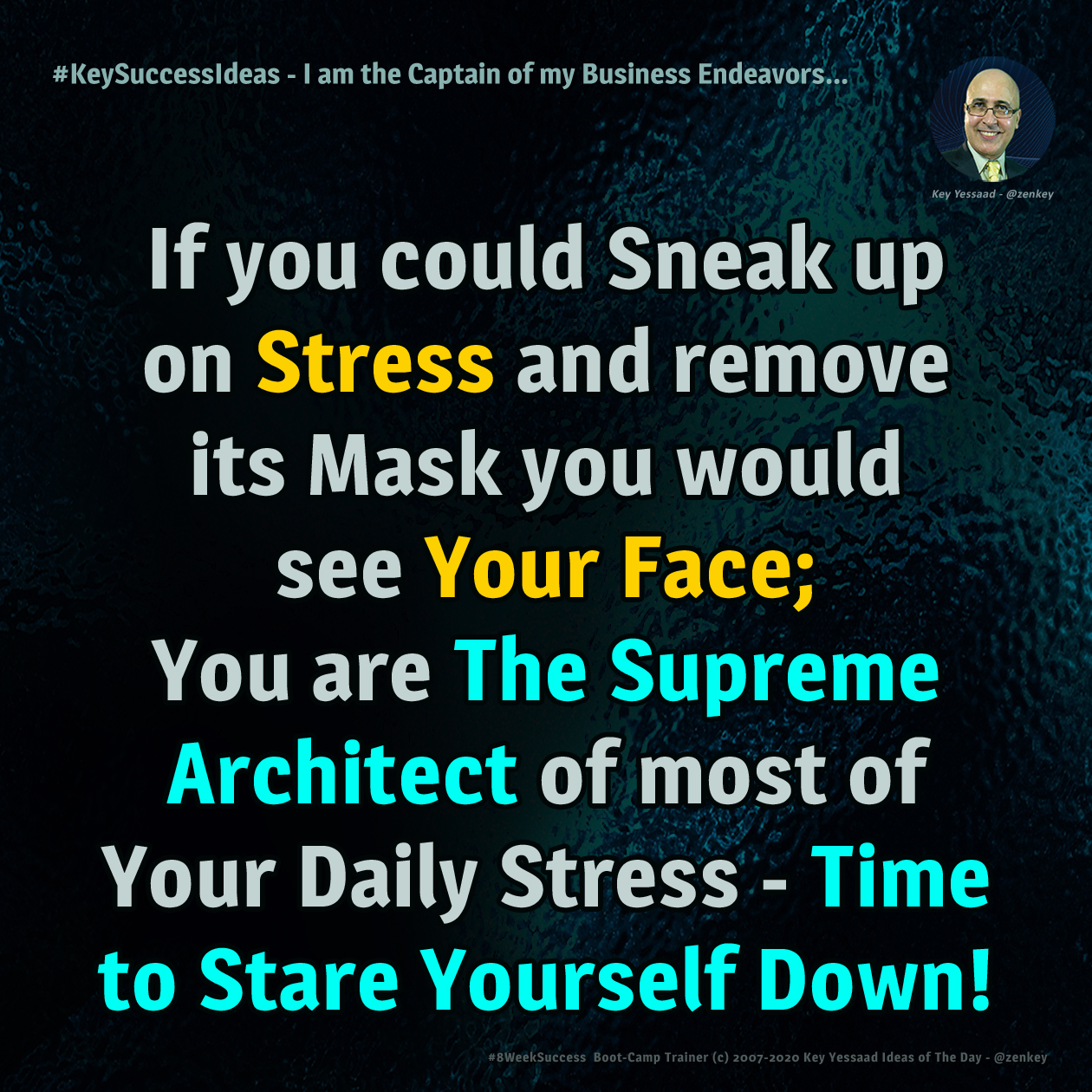 Written and Shared by Key Yessaad, Master Real Estate Strategist, Veteran Real Estate Trainer, Boot-Camp Instructor, Expert SEO Consultant, Internet Marketing Specialist, and Business Mentor/Coach. (910) 538-6610 - https://www.realestatewebtrainer.com/ 
Related Hashtags: #Stress #Journal #Sleep #Entrepreneur #KeyWorkshops #20in20 #RealEstateBootCamp #RealEstate #RealEstateMentoring #Motivation #Inspiration #RealEstateBootCamp #Success #RealEstateSEO - #RealEstateCoaching #RealEstateTraining #KeySuccessTraining #LiveTrainingRE #Agents #RealEstateMotivation #Realtor
Categories: Key Success Ideas, Entrepreneurial Reality, Real Estate Business