Procrastination is a very familiar word to Entrepreneurs, in fact it is more than a word; it affects many of our Real Estate Professionals day to day. #KeySuccessIdeas - What makes Procrastination powerful and insidious is many think of it as an external force; an affliction that happens to us from the outside world; yet we all know that's false - we create the circumstances that make it take a hold in our lives; we make the Petri dish in which it thrives and multiplies. 
Your first assignment in conquering Procrastination is to own it; build the courage to see yourself as the fabricator of this negative force: "I am the creator of the Circumstances that cause me to Procrastinate." "I am responsible for the times I let procrastination dictate my day." The realization that you own procrastination will arm you with the power for resolution. 
Another level of pain that comes from procrastination is the Stress it causes you; many entrepreneurs are stressed simply because they keep delaying what they should be working on right now; and this Stress makes you procrastinate some more, which leads to a vicious cycle of anger, gloominess, and the desire to give up. This insidious dance between Procrastination and Stress is what leads to Chronic Depression in many professionals. 
So let us take Procrastination to the woodshed; it is quite simple: "Get Started!" Whatever you have in front of you that you are pushing away for later; Start It! - Even if you don't know precisely where to get started. Just get going! When you get started your mind starts creating connection between the task at hand and other similar tasks you completed in the past; which will lead to other pieces being put in place, and all of a sudden you are in the thick of it. Take for example the task of putting together a Market Report; it may take you 30 minutes to complete it. Grab a sample report, look at it; then go on to your MLS Software; search for the section that handles Reports; and keep chasing that rabbit; before long you are getting closer to the finish line. 
Procrastination hates it when "You Get Started!" - It wants you to worry a little longer; to be fearful and confused all afternoon; it wants you to hesitate by convincing you that the task is hard; it loves it when you are swirling in a fog of confusion. Procrastination becomes a ghoul when you start listening to these negative messages, and empowering them - stare the monster down by getting started. "Just Get Going!" 
Here is a technique that I tell writers to do when they feel they are under the spell of a Writer's Block, which is a form of procrastination. Sit at your writing desk, grab your writing apparatus, and start writing about what color is your Writer's Block?; does it resemble a wall, the kind that meanders like the Great Wall of China?; Are the crows sitting on top of it laughing at you because you can't jump over your own block? Or is your block made of colorful Lego blocks that you can't pull apart? Maybe these crows grew hands and glued them together to get a rise out of you… You get the point of this exercise… 
The moment you let your imagination go, you are in the writing mode - so getting started is the biggest Anti-Dote to procrastination; your power is to assume the position of the task you are supposed to work on, and go through the motions; these motions will create emotion; and all of sudden you are in the thick of it. Consider adopting this Mantra: "I slay Procrastination Daily by Getting Started!"  - #8WeekSuccess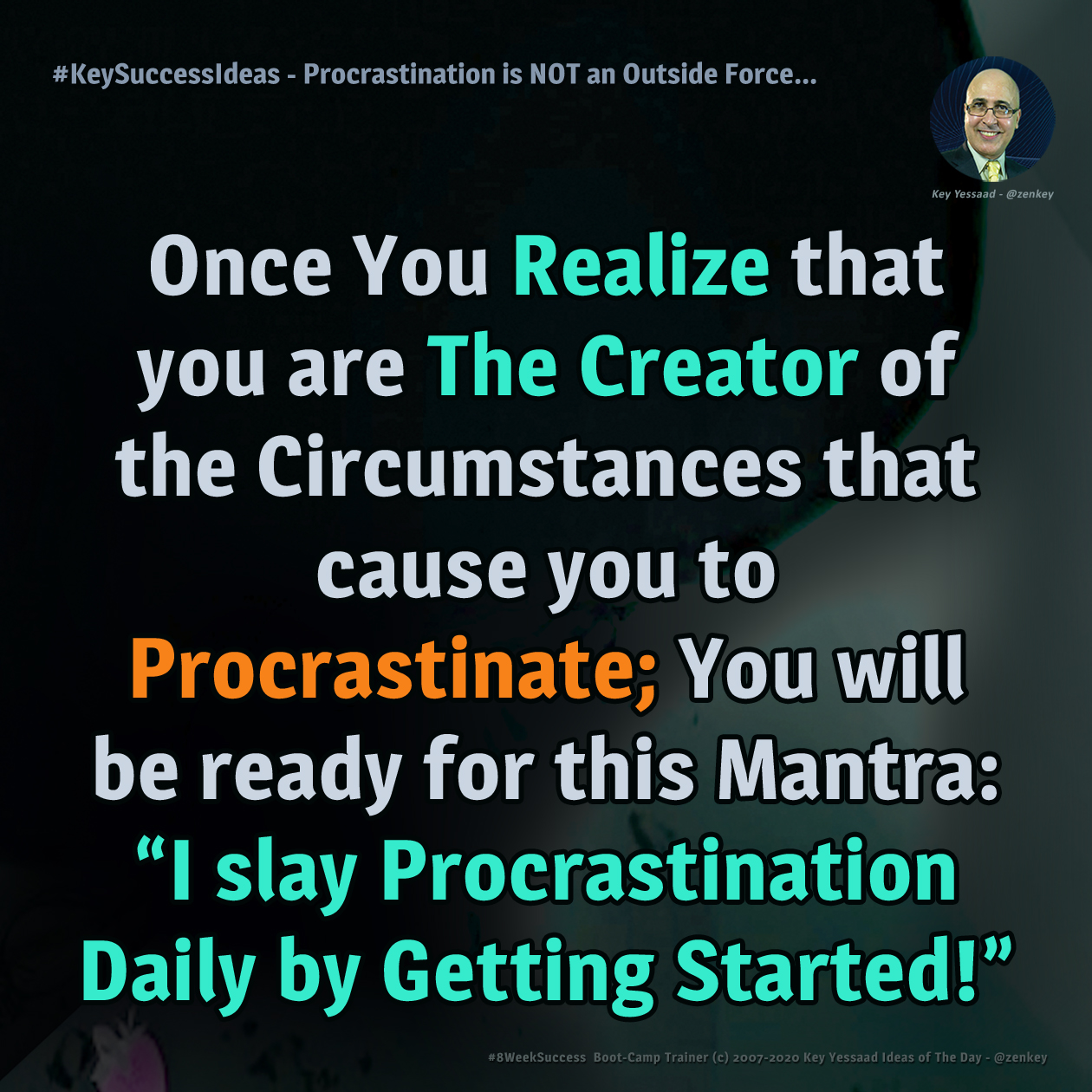 Written and Shared by Key Yessaad, Master Real Estate Strategist, Veteran Real Estate Trainer, Boot-Camp Instructor, Expert SEO Consultant, Internet Marketing Specialist, and Business Mentor/Coach. (910) 538-6610 - https://www.realestatewebtrainer.com/ 
Related Hashtags: #Procrastination #GetStarted #GetGoing #Entrepreneur #KeyWorkshops #20in20 #RealEstateBootCamp #RealEstate #RealEstateMentoring #Motivation #Inspiration #RealEstateBootCamp #Success #RealEstateSEO - #RealEstateCoaching #RealEstateTraining #KeySuccessTraining #LiveTrainingRE #Agents #RealEstateMotivation #Realtor
Categories: Key Success Ideas, Entrepreneurial Reality, Real Estate Business