The i-FAStTRAC Real Estate Training Program stretches over 4 months of Live Sessions, and occurs back to back three times a year so it provides Brokers and managers Live Real Estate Training in their offices at all times. #LiveTrainingRE - Each full program takes 4 months to complete, one week on of instructions, and one week off of implementation with 2 Mind-Set Real Estate Trainers Kevin Ahearn and me, Key Yessaad. Month 1 the participants do a total of six 3-hours sessions, 3 on Week 1 of the month, and the 3 on Week 3 of the Month with Kevin Ahearn. Then I come on Month 2 and do my six Sessions; Kevin continues on Month 3 with another batch of 6 sessions; and finally I close the program in Month 4 with another set of 6 Sessions. 
A full program offers each participant a total of 24 Live sessions that are 3 hours long from 1pm to 4pm Eastern via Live Video Conferencing, and spans a 4-Month period. The program was designed in this manner so as to help the Agent absorb and apply what they learn on an ongoing basis, and since the sessions are live they can interact and ask questions of the instructors to deepen their understanding. 12 of the sessions are with Kevin Ahearn and the other 12 are my curriculum of 12 sessions. My sessions can be viewed as the intersection of Prospecting, Business Principles, and Internet Marketing. 
This coming week, on Tuesday October 15th, Wed 16th, and Thu 17th I will be covering the topics of Real Estate Leads Conversion, Web Platforms, Email Marketing, and Success Habits. Closing Deals in Real Estate is all about developing the right systems, the right mindset, having the proper scripts, designing good follow-up checklists, and tapping into the inner drive of each professional. Our Real Estate Agents can no longer afford to just dabble with Emails, CRMs, and Websites - they have to create a mesh of Good Habits that carry them from client to client, listing to listing, and closing to closing. 
Let me delve into the mindset of success habits by emphasizing the importance of Appointments; Prospecting is the process of going from one person to the next until you have secured your 2 to 3 appointments a week; preferably a mix of Listing appointments and Buyers' Consultations. In order to create this environment agents must structure their day properly, in other words introduce Time-blocking techniques to their mornings and midday activities - it's not always fun but it is necessary.  
Real Estate Agents do not need to develop superpowers in order to succeed; they need to build Confidence - and knowledge and learning help here; They need to build Discipline - and morning routines here help; They need to build Engagement - and Scripts, rehearsed scripts help a lot. Consider this quote by famous Soccer Phenom Pele: "Success is no accident. It is hard work, perseverance, learning, studying, sacrifice and most of all, love of what you are doing or learning to do." 
Our Training Program is Live and Interactive; all sessions are 3-Hours long over Live Video Conferencing in each office training room, with Webcams and Special Microphones, and start at 1pm Eastern - Don't forget to download your Handout Booklets and see you all in Class: https://www.liveinteractivetraining.com/  - #RealEstateSuccess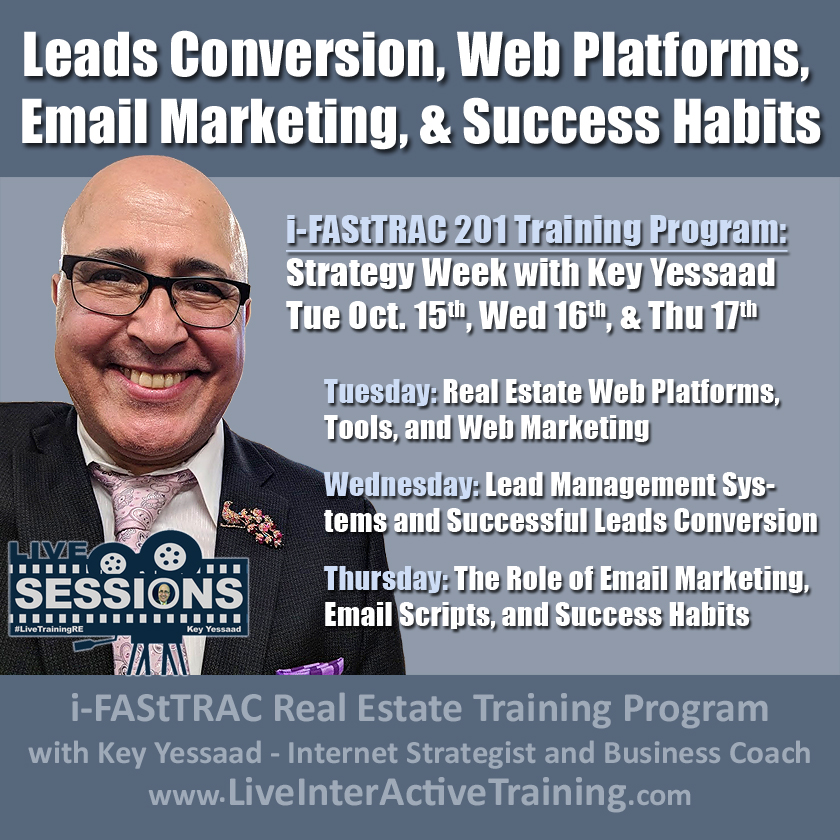 Written and Shared by Key Yessaad, Master Real Estate Strategist, Veteran Real Estate Trainer, Expert SEO Consultant, Internet Marketing Specialist, and Business Mentor/Coach. (910) 538-6610 - https://www.realestatewebtrainer.com/  
Related HashTags: #LeadsConversion #WebPlatforms #SuccessHabits #EmailMarketing #20in20 #RealEstate #Marketing #Realtor #RealEstateMarketing #Success #Motivation #Entrepreneur #RealEstateSEO #RealEstateTraining #RealEstateCoaching #RealEstateSuccess #KeySuccessTraining
Categories: i-FAStTRAC Training, Real Estate Trainings, Real Estate Websites