Learning to say No to the various demands and requests of life is about bringing Sanity to one's life; #KeySuccessIdeas -  and before I elaborate too much I must first tackle the nature of over-simplistic reasoning called dualism… Learning to Say No is NOT the Opposite of Learning to Say Yes; in fact they live in the same realm and complement each other. The Yes's we need to nurture become more powerful when we develop the discipline to say No to other requests. This is quite obvious because we only have so much bandwidth to work with; and the Bandwidth I am referring to is not that of time; it is the human capacity for "Sustained Attention." 
Excellence is never found in the playground of dabblers; you have to graduate from tinkering to focusing on what you want, and the clearer you see what you want the clearer the path of worthy hard work and sacrifice. Anything worthwhile requires effort, and that elbow grease must be channeled in the activities that generate the highest and best results. We say No so we can put our attention on our Plan of Action, one that was arrived at with proper consideration. In this realm a mentor or a coach could play a big role in honing in the proper planning and execution. 
I love saying Yes to Speaking Engagement in my field of Expertise, and in order to nurture more of them I have to say No to several other collaboration requests that I have assessed as not fitting my goal of Mastering and Marketing my Boot-Camp Training. "No" is not a negative energy; it is simply walking a path and choosing where to bifurcate so long as it is in the realm of my larger vision and goals. 
One of the biggest No's we must master is saying No to watching TV or being on Streaming services past 11pm; in fact we must learn to say Yes to being in bed roughly around 10pm and waking up no later than 6am. As a society we are not nurturing our health with an adequate amount of sleep - most adults need 7, 7 ½, or 8 hours of sleep daily, and we are not prioritizing this necessary health benefit.  
Another No we must master is sleeping with our smartphones in the bedroom and being subjected to all the dings, buzzes, and beeps of notifications; and even if you think you made them all silent, the other bad habit is to grab your phone once you wake up - learn to say Yes to giving yourself an hour or more to yourself in the morning without the compulsion to check your emails, your texts, turn on the TV, or your social media - do those things later and create a healthy morning routine that involves your family, exercise, meditation, prayers, walks, pets, etc… 
Entrepreneurs are bombarded all day long with requests of all kind and saying Yes to some of them is important; learning to also say No to others is where your mastery of your business will come from. Prioritize your days with Prospecting activities and then fit the rest if you can; DO NOT compromise your Prospecting or postpone it for a lower priority activity - this is the number 1 reason many don't make it in this business.  - #8WeekSuccess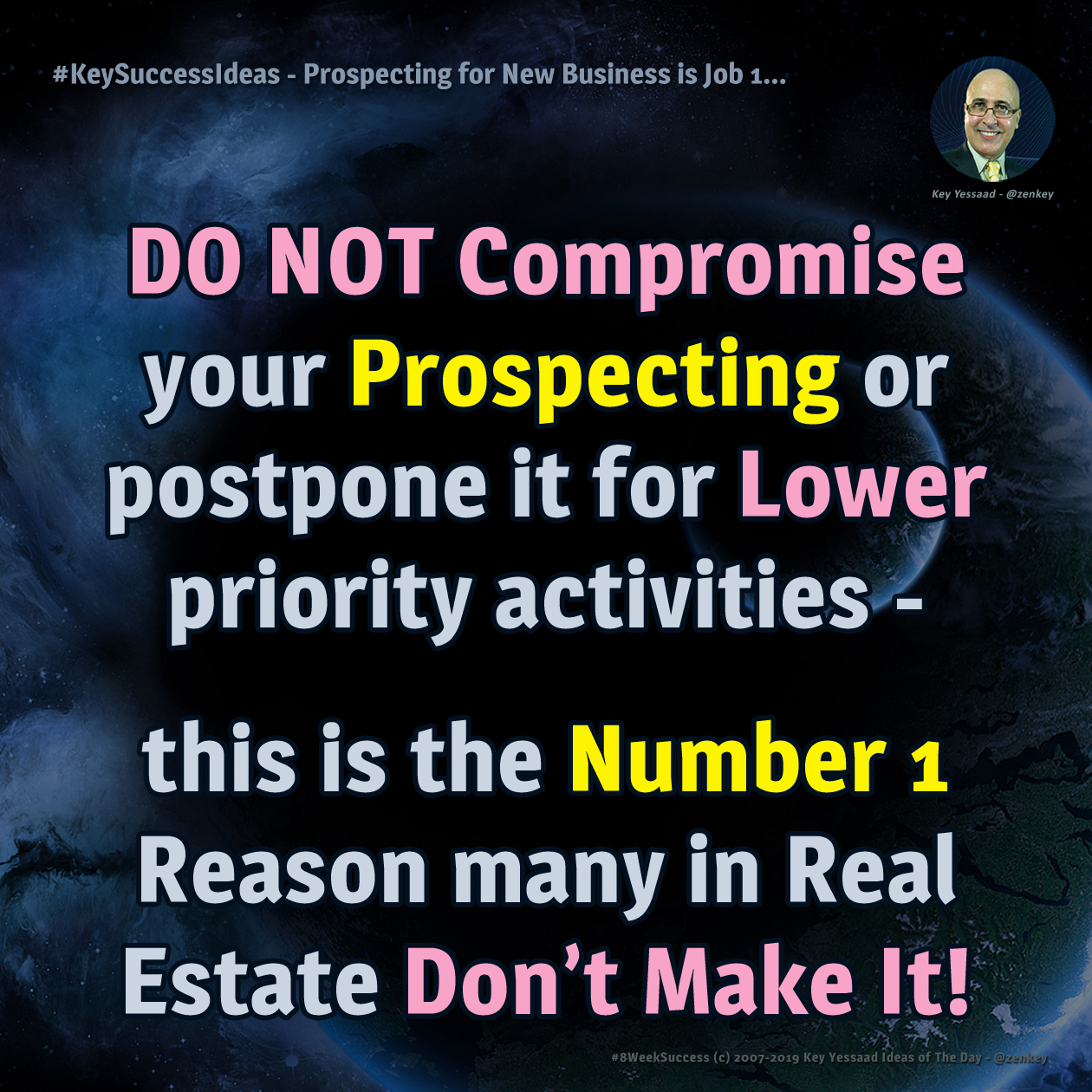 Written and Shared by Key Yessaad, Master Real Estate Strategist, Veteran Real Estate Trainer, Expert SEO Consultant, Internet Marketing Specialist, and Business Mentor/Coach. (910) 538-6610 - https://www.realestatewebtrainer.com/ 
Related Hashtags: #SayNo #Prioritize #Prospecting #Entrepreneur #KeyWorkshops #20in20 #RealEstateBootCamp #RealEstate #RealEstateMentoring #Motivation #Inspiration #RealEstateBootCamp #Success #RealEstateSEO - #RealEstateCoaching #RealEstateTraining #KeySuccessTraining #LiveTrainingRE #Agents #RealEstateMotivation #Realtor
Categories: Key Success Ideas, Real Estate Business, Entrepreneurial Reality