Perfection is not only The Enemy of Progress it is the provider of the best sounding Excuses for the Avoidance of Action. #KeySuccessIdeas - You and I and everyone we know is enthralled by Perfection; we want to make the perfect decision over what phone to buy; the perfect choice on the person we should date; the perfect knowing on what doors to canvass and what doors not to; the perfect script that makes everyone around us say Yes to our Asks… Ah lady Perfection you are so alluring! 
Perfection is wrapped around the fingers Vanity and Ego, NOT Strategy; as all of you must know by now this Blog and most of my Blog Posts are about Entrepreneurs and Real Estate Professionals, and for this group of Independent Contractors Results are the only measure of Progress, and since we deal with people, Perfection will slow you down and even hinder your Strategic Thinking. You make 200 phone calls a week not because you think you will get 200 Yes's but because you know that you need to secure 3 to 5 appointments that week; so by design you know you are going to get 197 No's and there is NO perfect Script on the Planet in which you get 200 Appointments after making 200 calls. You also know that those who get 3 to 5 appointments a week always make more than $100K a year…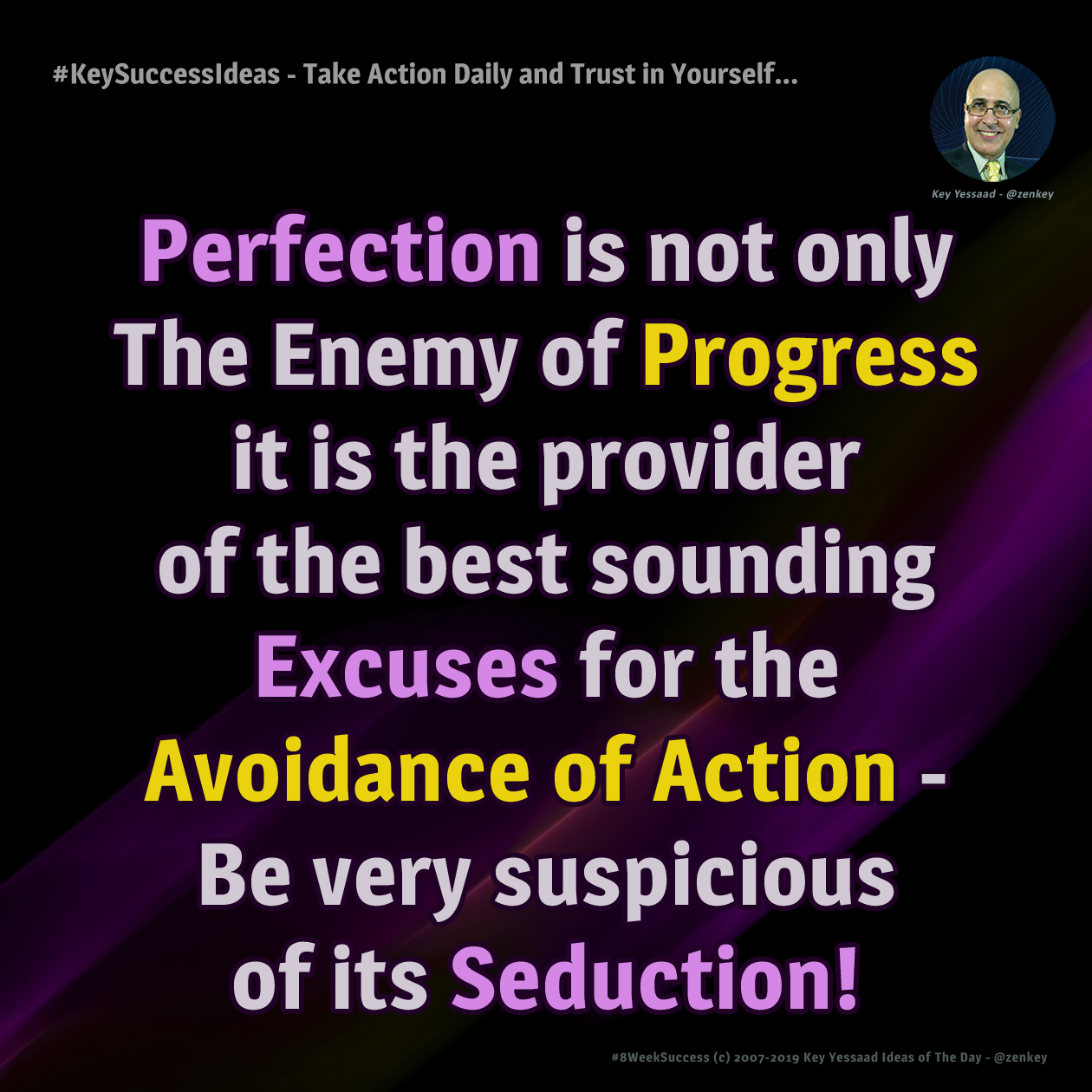 Real Estate is a Probability endeavor, some call it a Numbers' Game; which simply means that baked in your daily interactions are mostly No's and we chase the few Yes's - this is why we become friends with Progress, NOT Perfection. The ability of Real Estate Agents to move on quickly from perceived Rejection is a very important skill to master, and you have to work on it day in day out. It will never get easier, you will simply make a lot of money in the process and the stings of Perceived Rejection will no longer break you. 
In my years as a Business Coach and Trainer I have seen the desire for Perfection freeze the career of many wonderful Professionals; I have seen great people give amazing sounding excuses for why they aren't ready to do well because the perfect this or the perfect that had not been reached; I heard many try to convince me that some come to this earth with the Perfect Plan and other are doomed to struggle; but I have also seen the wisdom of the few and they think this way: "I am not going to re-invent the wheel; my broker says listen to this coach and apply what they tell you, and just give it your best;" and those few come from nowhere and pass established agents and everyone is asking, where did she come from?  
I will end this post with this question: "Are you hiding behind Perfection because it sounds good to your tongue when people ask you how come your numbers are not adding up?" Is it possible that there is another truth, similar to the fear of Rejection that is haunting you? I wish for you the wisdom of Progress; the beauty of putting one foot in front of the other and building your results organically; and the wisdom to recognize that making decisions is wiser than being frozen worried about making the wrong decision. George Will said it this way: "The Pursuit of Perfection often impedes Improvement."  - #8WeekSuccess 
Written and Shared by Key Yessaad, Master Real Estate Strategist, Veteran Real Estate Trainer, Expert SEO Consultant, Internet Marketing Specialist, and Business Mentor/Coach. (910) 538-6610 - https://www.realestatewebtrainer.com/ 
Related Hashtags: #Progress #TakeAction #NoExcuses #Entrepreneur #KeyWorkshops #20in20 #RealEstateBootCamp #RealEstate #RealEstateMentoring #Motivation #Inspiration #RealEstateBootCamp #Success #RealEstateSEO - #RealEstateCoaching #RealEstateTraining #KeySuccessTraining #LiveTrainingRE #Agents #RealEstateMotivation #Realtor
Categories: Key Success Ideas, Entrepreneurial Reality, Real Estate Business