If and when your mind meanders and avoids staying focused on the task at hand it does not mean you have a broken brain or that you are A.D.D. - #KeySuccessIdeas - Minds do wander; it becomes a big challenge when it feels like it has become an affliction, and your ability to work on your daily projects has been undermined. 
The first thing to do when you start getting frustrated by the constant drifting of your mind is to relax; more frustration rarely solves any anguish. The second is to never forget that you are in control and that you can remedy this situation; or at least reduce its impact on your life and work. I will share some tips and insights that you can try, and if you stick with some of them you will start shaping your mind to work for you. It is important to recognize that as an entrepreneur you get paid for the results you create, and your ability to focus for long stretches of time is essential - I like to say that "Entrepreneurs are Mind Athletes" - and Learning to discipline your mind is truly daily grind. 
Sleep: Many, way too many entrepreneurs do not take seriously their sleep regularity. They really believe they can abuse those hours without impunity - sorry but you are hurting yourself and your career by not giving yourself your 7 to 8 hours of sleep at night. Become aware of your sleep pattern and get to know the number of hours you need and then become disciplined about your sleep. This step alone will make a big difference in your productivity. 
Cool and Dry: When your environment is hot and humid you feel more lethargic and that causes a burden on your thinking and focus; the cooler and drier the work space the crisper the thinking and the longer the focus. Experts recommend a work space between 70 to 74 degrees Fahrenheit and humidity control in the range of 35 to 50 percent. Anything you can do to maintain a home or work office in these ranges the more alert you will feel towards your projects. 
Meditation and/or Contemplation: Minds love to stray and meander if left on their own; this is why minds need some discipline, much like your muscles need a work out. Meditation and focused meditation train the mind to remain still, and all you need to do is the moment you catch your mind meandering you bring it to focus on the mantra or the object you are focusing on. You only need 15 minutes a day of Meditation, but be aware it is not easy; it is probably the hardest exercise you will ever undertake; but oh the benefits you gain from learning to discipline your mind! Many enjoy Mindfulness Meditation because it addresses specifically wandering thoughts and minds… try this link and learn how to meditate which will help you tame your most important asset. 
Take Breaks: Make your workday a series to Time Blocks of about 25 to 35 minutes with 5 to 10 minutes breaks in between. See if you can get up from your desk and walk around for a few minutes; during that time let your mind go wherever it wants to go; and don't forget to hydrate. 
I am sure that you have your own thoughts on how to harness the power of your focused mind, and I want to encourage you to take them seriously. Your mind is a wonderful world of creativity and ingenuity - if you nurture and discipline your mind it will repay you a hundred fold.  - #8WeekSuccess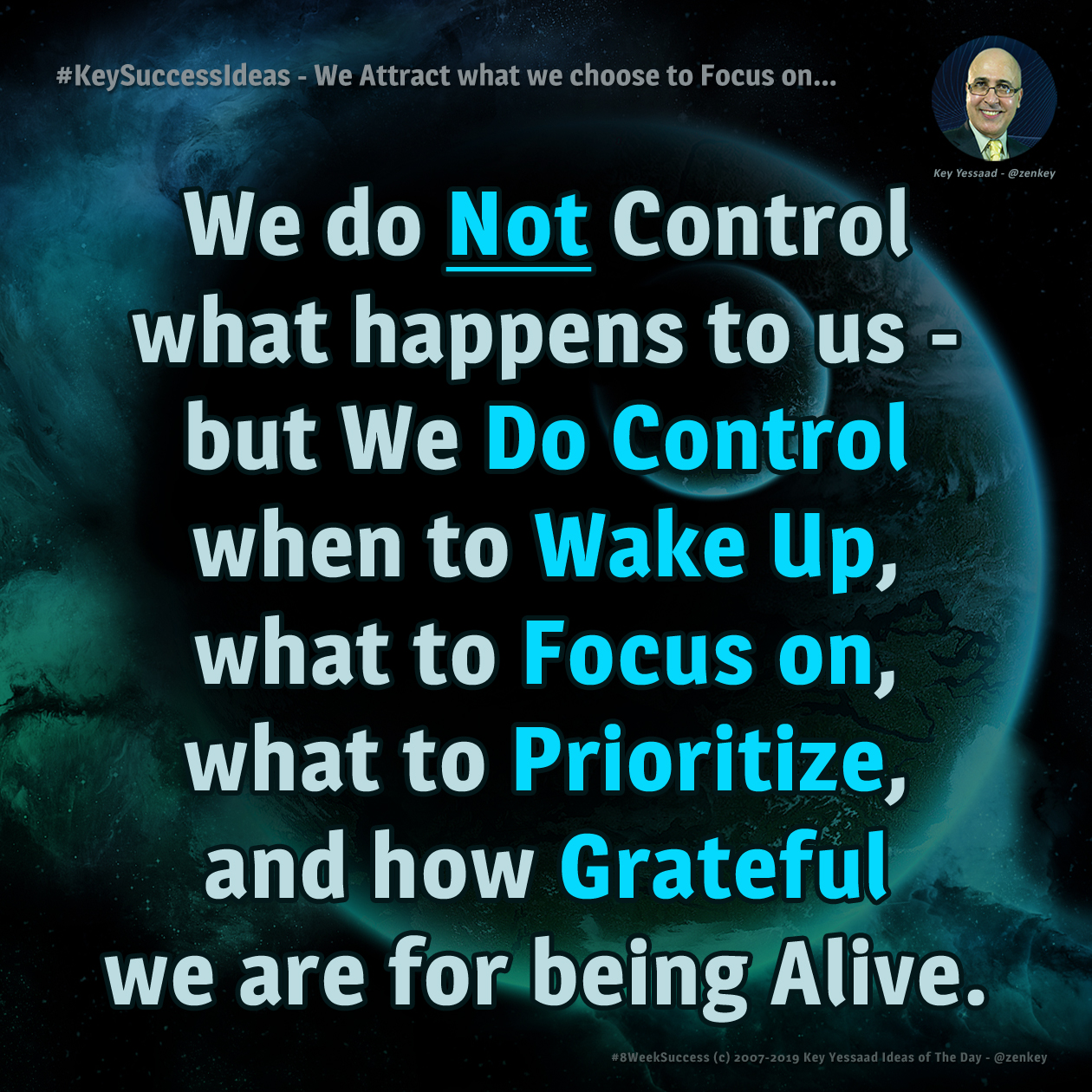 Written and Shared by Key Yessaad, Master Real Estate Strategist, Veteran Real Estate Trainer, Expert SEO Consultant, Internet Marketing Specialist, and Business Mentor/Coach. (910) 538-6610 - https://www.realestatewebtrainer.com/ 
Related Hashtags: #Mind #FocusedMind #Meditation #Entrepreneur #KeyWorkshops #RealEstate #RealEstateMentoring #Motivation #Inspiration #RealEstateBootCamp #Success #RealEstateSEO - #RealEstateCoaching #RealEstateTraining #KeySuccessTraining #LiveTrainingRE #Agents #RealEstateMotivation #KeyTrainingWorkshops #Realtor
Categories: Key Success Ideas, Entrepreneurial Reality, Real Estate Business