Many of the Barriers to Success in the Real Estate Industry are Self-Imposed by the participants themselves, and many times re-enforced by 'yet to be' Seasoned Managers and Brokers. #KeyWorkshops - A good portion of Broker/Owners do an outstanding job and connect the Needs of their agents, that of the brokerage, and most importantly the Community very well. But if there is an area in need of a push; I like using the verb Nudge, it is the area of Prospecting - many of our newer Agents believe the industry is in need of Order Takers. Truth is: We have more than we can manage, and unfortunately the majority of these "order-takers" are making less than $20K a year - not really a living wage in today's America. 
Prospecting is one of the major Pillars of Success for Real Estate Professionals; and it is our job to create Workshops that help them develop the Right Mindset; the Right Strategies; the Right Plan; the Right Time Blocks; the Right Scripts; and a multitude of Leads' Funnels in order for them to create 20 Sales or more per year - I argue that should be our floor of production for all our Full-Time Agents. Here is a way to look at an agent bottom line for the year - One listing per month and 8 to 10 Buyers a year – that's your 20+ Transactions a Year!

One of the funnels we can no longer avoid, or worse dare to ignore, is the internet; or more precisely the Search Habits of Homeowners looking to sell and Future Buyers looking to buy. Internet Marketing, or more accurately Inbound Marketing is an important skill to develop, and the roots of the action online are Hyperlinks, also known as links. Our Agents need to not only learn about what they are, but also the various types of links - we must learn to incorporate Strategic Links in everything we do on the web. Did you know that creating these pesky Hyperlinks is easy? Well, I am here to tell you that it is - and I will show you how during my Workshop. 
In my Real Estate Training Workshop this coming Friday, the 20th of September, I will be focusing our Real Estate Participants in Madison Wisconsin on both Prospecting and Hyperlinks - "Your Prospecting Mindset and How to Leverage Real Estate Hyperlinks." We will spend four hours together delving deep into these two intertwined topics and walk away with a greater understanding.  
Here is the short description of this coming Workshop: "Success in Real Estate is driven by Prospecting, or more precisely by the Proper Pro-Active Prospecting Plans that agents create for their Business. Each of the 4 Ps in previous sentence speaks to the urgency to create leads and nurture future Buyers and Sellers. It is an ongoing non-stop endeavor that some do really well, while others struggle for lack of a suitable Mindset. During Key's Workshop we will tackle Prospecting Head On, and learn the role Hyperlinks play in Internet marketing and how to create them properly."
Key Yessaad's Real Estate Training Workshops are Live in person events, that take place All-Day long and come each with a 25 to 30-Page Handout. The sessions are fast moving and very practical, with proper Checklists, Scripts, and Action Exercises. - #KeyWorkshops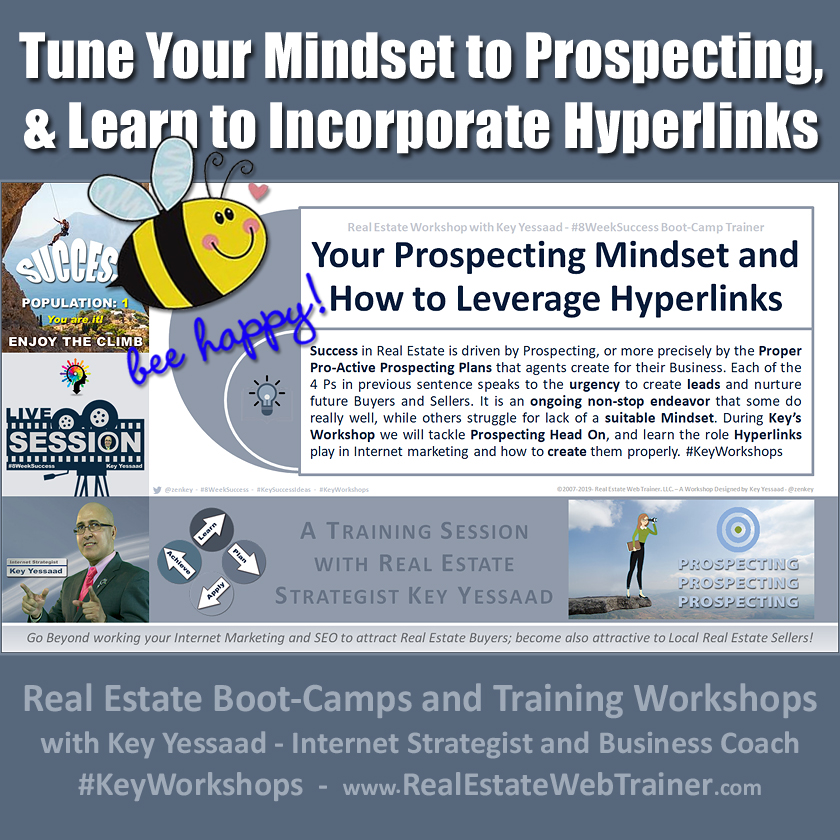 Written and Shared by Key Yessaad, Master Real Estate Strategist, Veteran Real Estate Trainer, Expert SEO Consultant, Internet Marketing Specialist, and Business Mentor/Coach. (910) 538-6610 - https://www.realestatewebtrainer.com/  
Related HashTags: #Prospecting #Hyperlinks #StrategicLinks #SuccessHabits #KeyTrainingWorkshops #RealEstateWorkshops #RealEstateTraining #RealEstateBootCamp #RealEstate #Marketing #Realtor #RealEstateMarketing #Success #Motivation #Entrepreneur #RealEstateSEO #RealEstateCoaching #RealEstateSuccess #KeySuccessTraining #KeySuccessIdeas #Inspiration
Categories: Key Workshops Training, Real Estate Trainings, Real Estate Prospecting