The notion that in 2019 Entrepreneurs still talk in term of Time Management is truly nonsensical; - #KeyWorkshops - No one can manage time; physicists still struggle with understanding its dimension; but more importantly Time is not clay that can be shaped; we have to mold ourselves to time. Time is a finite commodity; taking life expectancy of 78.69 years in the U.S. as a guide we only get 28,742 days made of 24 hours each - that's it. Some get little more days, many a lot less; but that's it for our original deposit in this existence. 
A more insightful way to interact with time is in terms of Blocking, called "Time Blocking." You must understand that the verb to Block means to make unsuitable for passage or progress by obstruction. In this context it means not allowing outside influences to interfere with an activity or task decided by you for a specific length of time. Let's explore using an example: The task is to put together a CMA Report for your Presentation tomorrow. You Time Block today 35 minutes, from 8am to 8:35am to work on it, and you block all outside forces imposed on you; or more realistically self-distracted by you to get that task done. But say on your way to work you had a flat tire and you don't end up arriving until 9am; then the block is shifted to 9:20am to 9:55am - it is NOT cancelled. 
Smart Entrepreneurs talk in Terms of Time Blocks not Time Management. Smart Entrepreneurs do not time block every hour of their day, but they make a list of the 5 to 8 important time blocks of the day, recognizing that a block of time is 25 to 40 minutes long; it is never cancelled, but if necessary, shifted; and more importantly the top 5 must get done no matter what. This is where daily planning for Prioritization plays a big role in the life of Real Estate Professionals. The most important Time Blocks of the Week are Appointments - a smart Agent looks to schedule 3 to 5 such appointments. The whole purpose of Time Blocking is to get to appointments - that's where the magic of Buying or Selling Real Estate happens. 
In my Training Workshop "Lead Conversion Strategies, Success Mindset, and Smart Time-Blocking" we learn the fundamental strategies for becoming better Time Blockers and Leads Converters. This all-day workshop is composed of 4 major Learning Parts: I start with a Career Assessment Exercise that reveals the major weaknesses and strengths of the Real Estate Participants. Then, it is onto creating the important Time Blocks of the Day, Week, Month, Quarter, and the Year. In the third portion we confront the Leads Conversion Tactics, Scripts and Strategies that convert to Appointments. We then finally wrap up with the Success Habits and Mindset of True Real Estate Professionals. 
Here is a short Description of this One-Day Workshop: Your Lead Conversion Habits, Success Mindset, and Time-Blocks: "The Lead Funnels of Real Estate Professionals are extremely important and they require proper daily maintenance. This is when Discipline becomes an Agent's best friend; and daily Focused Habits are the only Game Changers worth implementing. In this All-Day Workshop we dig deep into the weeds of Proper Scripting; Proper Time-Blocking; Proper Lead Incubation; and Proper System Management. Many of you could squeeze another 10 to 15 Closings a year if you only managed properly 3 hours of your Workday - Let's do this!" 
Key Yessaad's Real Estate Training Workshops are Live in person events, that take place All-Day long and come each with a 25 to 30-Page Handout. The sessions are fast moving and very practical, with proper Checklists, Scripts, and Action Exercises. - #KeyWorkshops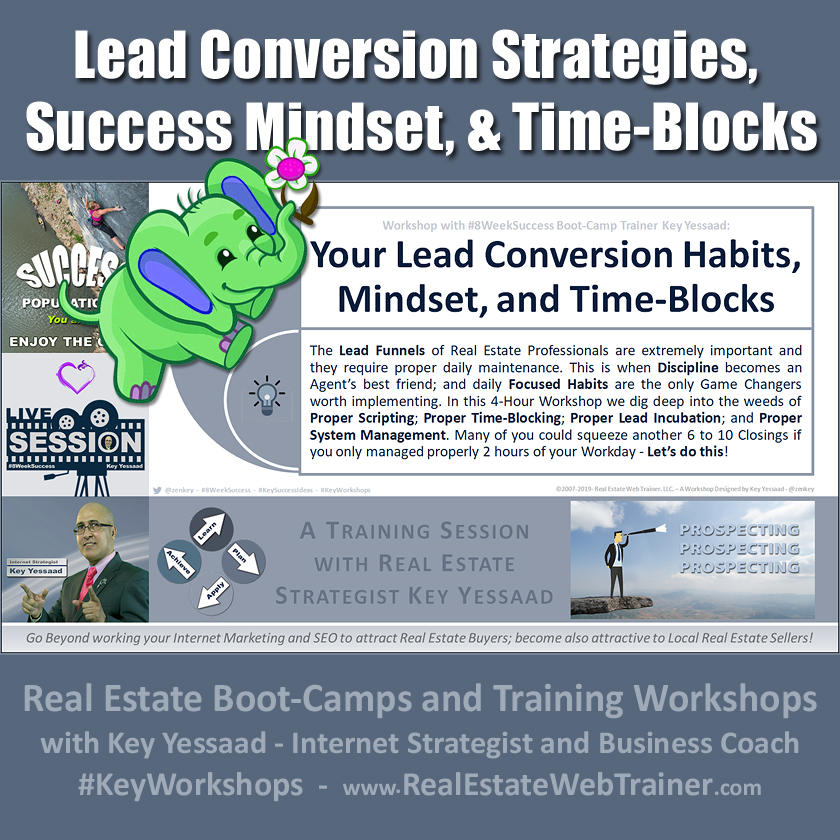 Written and Shared by Key Yessaad, Master Real Estate Strategist, Veteran Real Estate Trainer, Expert SEO Consultant, Internet Marketing Specialist, and Business Mentor/Coach. (910) 538-6610 - https://www.realestatewebtrainer.com/  
Related HashTags: #TimeBlocking #LeadManagement #LeadGeneration #SuccessHabits #KeyTrainingWorkshops #RealEstateWorkshops #RealEstateTraining #RealEstateBootCamp #RealEstate #Marketing #Realtor #RealEstateMarketing #Success #Motivation #Entrepreneur #RealEstateSEO #RealEstateCoaching #RealEstateSuccess #KeySuccessTraining #KeySuccessIdeas #Inspiration
Categories: Key Workshops Training, Real Estate Trainings, Time Blocking