When Larry Page and Sergey Brin were forming their Search Engine in the late Nineties they came up with a name for their company and it was not Google; they had a much different name - what was it? #LiveTrainingRE - The question is not a matter of Trivia; it in fact reveals a profound understanding of the creation of the Algorithm now called PageRank. In the early part of our Session I will be digging deep into these ideas so we can understand what they mean; then use this understanding to leverage our SEO Marketing properly in our Real Estate Endeavors. 
Grasping these fundamental ideas of Inbound Marketing, and how they relate to Search Engine Optimization in Real Estate, play a big role in Validation; better known as Googlability. Each Real Estate Professional will be Googled by their customers, and what they find about you online will either re-assure them to move on and work with you - or worse will underwhelm them and you will never hear from them again. It is crucial that your Internet Presence conveys the professionalism that you plan to bring to the transaction. 
In our session 3 of the i-FAStTRAC 201 Real Estate Training Program I will introduce our Real Estate Agents and Brokers to the ingredients of a Proper Inbound Marketing Biography; or think of it as your Curriculum Vitae/Resume on the internet. This Bio must contain the right Keywords; It must be sequenced properly; and must answer the important questions Buyers and Sellers and looking for during their Googling of Real estate Needs. Let us not forget that consumers feel empowered by ability to research any topic using the internet; and that means the professionals have to adapt not to new Sales Techniques, but rather to create engagement and conversations. 
Our Real Estate Training Program is Live and Interactive; all sessions are 3-Hours long and start at 1pm Eastern - Don't forget to download your Handout Booklets; see you all in Class: https://www.liveinteractivetraining.com/  - #InboundMarketingBio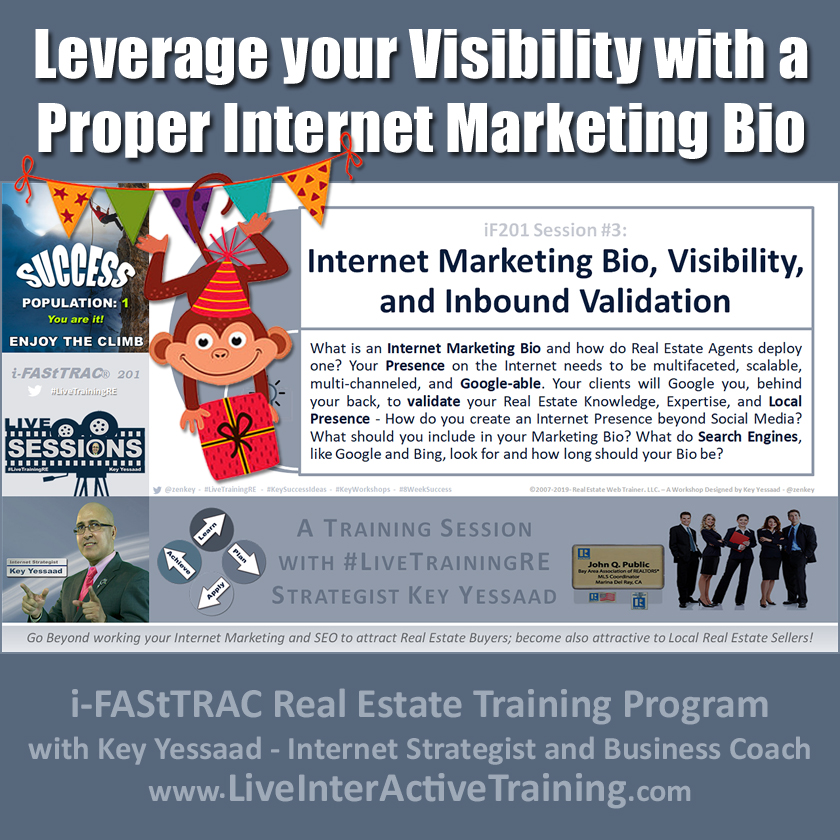 Written and Shared by Key Yessaad, Master Real Estate Strategist, Veteran Real Estate Trainer, Expert SEO Consultant, Internet Marketing Specialist, and Business Mentor/Coach. (910) 538-6610 - https://www.realestatewebtrainer.com/  
Related HashTags: #RealEstatePresence #InternetPresence #RealEstateBio #InternetBio #Keywords #RealEstate #Marketing #Realtor #RealEstateMarketing #Success #Motivation #Entrepreneur #RealEstateSEO #RealEstateTraining #RealEstateCoaching #RealEstateSuccess #KeySuccessTraining
Categories: i-FAStTRAC Training, Real Estate Trainings, Real Estate SEO