There are Gatekeepers between your website and your customers who are searching for Real Estate - #LiveTrainingRE - they are called Internet Spiders or Web Crawlers. These tiny computer programs called bots scour the internet to find web pages with the appropriate attached keywords, index these pages, and then rank them based on the Search Engine Algorithm. In the case of the Google Search Engine they are called Googlebots and they rank web pages using the PageRank Algorithm. 
Every Marketer must understand the behavior of these Crawlers if they wish for their website to compete in the ranking process. In essence if we want to become attractive to our customers, we must first become visible and index-able to Spiders. Some call this type of work SEO or Search Engine Optimization - I prefer calling it: Strategizing with Search Marketing Tools. 
During session 2 of the i-FAStTRAC 201 Real Estate Training Program I will focus our Agents on how Spiders work? What do Web Crawlers look for? How do you know if they are visiting your website? What Keywords are Crawlers extracting from your website? What Meta-Tags are Search Engines extracting? Can you tell the last time they visited your website? As well as visualize the Site Index and what it says about your Website and Presence Online. 
Our Real Estate Training Program is Live and Interactive; all sessions are 3-Hours long and start at 1pm Eastern - Don't forget to download your Handout Booklets; see you all in Class: https://www.liveinteractivetraining.com/  - #WebCrawlers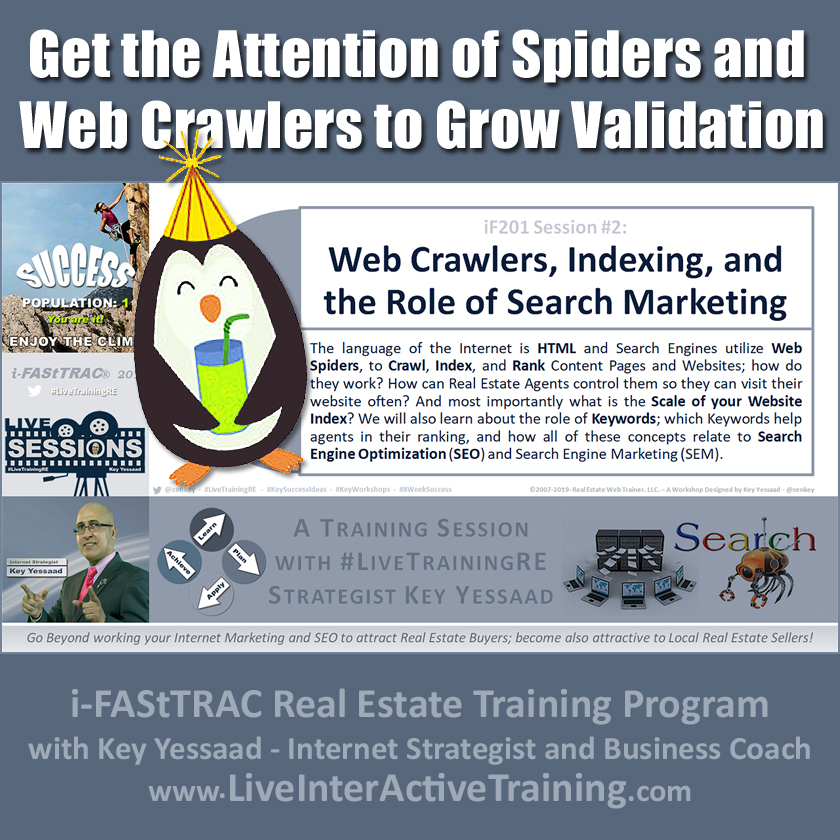 Written and Shared by Key Yessaad, Master Real Estate Strategist, Veteran Real Estate Trainer, Expert SEO Consultant, Internet Marketing Specialist, and Business Mentor/Coach. (910) 538-6610 - https://www.realestatewebtrainer.com/   
Related HashTags: #SiteScale #Spiders #GoogleBot #BingBot #MetaTags #Keywords #RealEstate #Marketing #Realtor #RealEstateMarketing #Success #Motivation #Entrepreneur #RealEstateSEO #RealEstateTraining #RealEstateCoaching #RealEstateSuccess #KeySuccessTraining
Categories: i-FAStTRAC Training, Real Estate Trainings, Real Estate SEO