With the advent of Google in the late Nineties Search transformed gradually the behavior of consumers and their approach to their Real Estate Needs. #LiveTrainingRE - The major crossover happened in 2004 when the number of consumers searching traditionally using newspaper and magazines was surpassed by those searching for homes using the internet; and continued until saturation in late 2010. This simply means that all those seeking advice or looking to Buy and Sell their homes now do it using the Internet, and more specifically Search Marketing. 
2010 ushered the era of Inbound Marketing, a type of Marketing that is driven by education and information - rather than Sales Techniques and Price Gimmicks. Understanding Websites and more importantly learning how to rank them for local keywords became an important skill – it has come to be called Real Estate SEO, standing for Real Estate Search Engine Optimization. 
In Session 1 of the i-FAStTRAC 201 Real Estate Training Program we will learn: What is the Behavior of consumers when they interact with Real Estate Websites, Search Engines, and what is the best information we must give them in order for them to do business with us. We will also cover how to develop the proper mindset for Prospecting and how to put together an Internet Profile Signature. 
Our Training Program is Live and Interactive; all sessions are 3-Hours long and start at 1pm Eastern - Don't forget to download your Handout Booklets and see you all in Class: https://www.liveinteractivetraining.com/  - #InBoundMarketing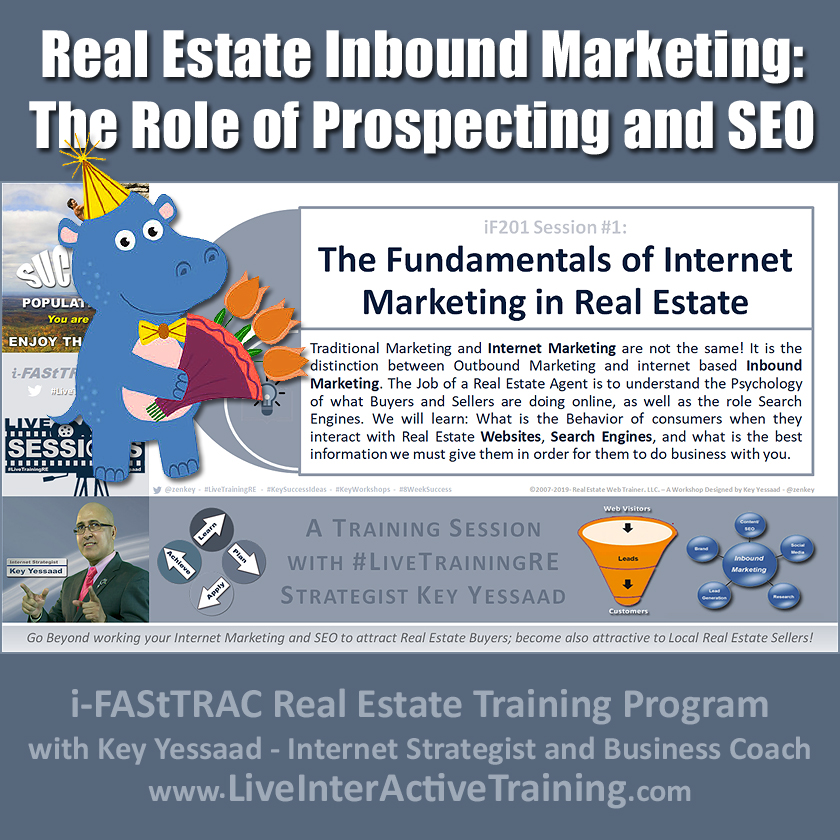 Written and Shared by Key Yessaad, Master Real Estate Strategist, Veteran Real Estate Trainer, Expert SEO Consultant, Internet Marketing Specialist, and Business Mentor/Coach. (910) 538-6610 - https://www.realestatewebtrainer.com/  
Related HashTags: #InternetMarketing #InternetVisibility #ProfileSignature #SearchMarketing #RealEstate #Marketing #Realtor #RealEstateMarketing #Success #Motivation #Entrepreneur #RealEstateSEO #RealEstateTraining #RealEstateCoaching #RealEstateSuccess #KeySuccessTraining
Categories: i-FAStTRAC Training, Real Estate SEO, Real Estate Trainings