My name is Key Yessaad and I will be your Real Estate Trainer and Strategist for the week of September 3rd through September 5th. You are reading this blog because you probably participate in the i-FAStTRAC Real Estate Training Program which I conduct with Kevin Ahearn in alternating months. The Big topics for this week will be Inbound Marketing, Web Crawlers, SEO, and Real Estate Internet Bios. - #LiveTrainingRE 
You may be asking yourself how do all these topics relate to a Real Estate Career; well we live in an age of Consumer Driven Search - he or she has at her fingertips access to all the Real Estate Information they desire, how are they going to pick you and work with you as their Real Estate Professional? In this course we will learn how Inbound Marketing works and uncover how to bend that knowledge so we can be found and interacted with. 
In order for your Web Presence to be effective you must understand How Search Works, and more specifically how Buyers and Sellers are using Search Engines to make decisions about their Real Estate Needs. This inquiry will lead us to look at the behavior of Spiders or properly named: Web Crawlers. These Software Programs, deployed by Search Engines, look for Keywords, Hyperlinks, and Special Meta Words to Index and Rank Web Pages - they are in effect what separates us from our would-be customers. 
Once we have absorbed all of these ideas and learned strategies to use them, we will tackle the big topic of having a proper Internet Marketing Bio for Real Estate Professional. It is shocking in our industry how few agents do this right – well it ends in this class. I will cover the 5 major ingredients of a proper Bio, How to link it, and how to distribute it on the internet. 
Our Training Program is Live and Interactive; all sessions are 3-Hours long and start at 1pm Eastern - Don't forget to download your Handout Booklets and see you all in Class: https://www.liveinteractivetraining.com/  - #RealEstateSuccess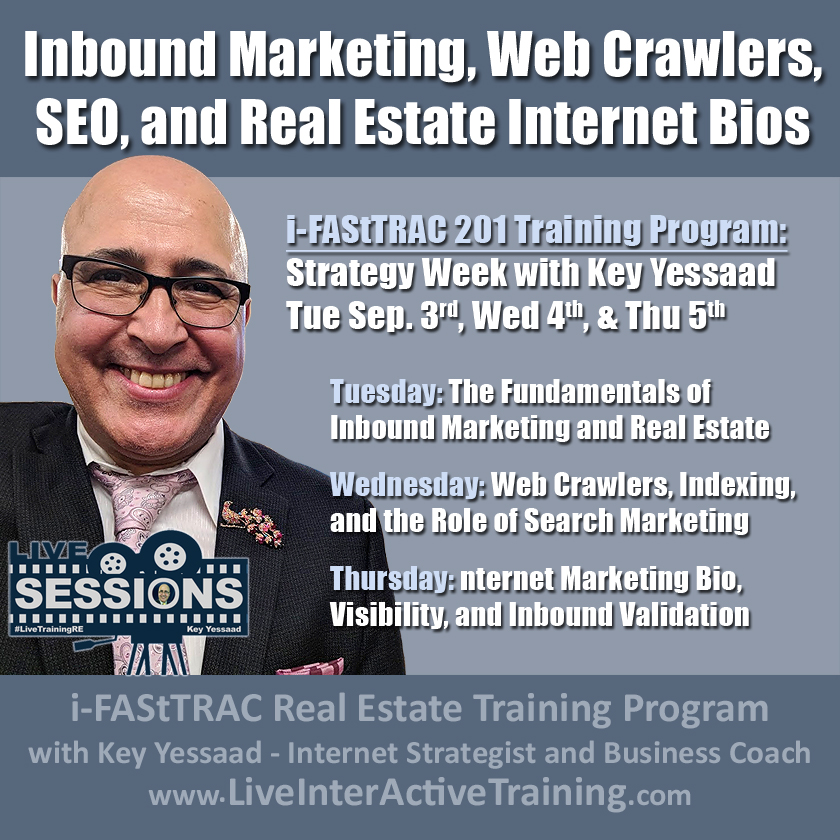 Written and Shared by Key Yessaad, Master Real Estate Strategist, Veteran Real Estate Trainer, Expert SEO Consultant, Internet Marketing Specialist, and Business Mentor/Coach. (910) 538-6610 - https://www.realestatewebtrainer.com/  
Related HashTags: #WebCrawlers #InternetBios #InboundMarketing #Hyperlinks #SearchMarketing #InternetLeads #RealEstate #Marketing #Realtor #RealEstateMarketing #Success #Motivation #Entrepreneur #RealEstateSEO #RealEstateTraining #RealEstateCoaching #RealEstateSuccess #KeySuccessTraining
Categories: i-FAStTRAC Training, Real Estate SEO, Real Estate Trainings