The world of Entrepreneurs is shrouded in legend and feats of superpowers; and every conference will feature the handful few who are almost God-Like yet look like the rest of us. #KeySuccessIdeas - The attention of all industries focuses on them and I understand why - I take a different route in the Real Estate Industry; I am interested in the top quintiles; especially those who go from joining the industry to making it in the top 30% of the transactions within 3 years.  
The first thing to know about these professionals is they are the workhorses of our industry, and they are made up of mostly women, close to 2/3. A large number of them are in their mid forties all the way to mid sixties and produce the bulk of all the transactions. They are silent, in the sense that they go about their business diligently and methodically, and rarely do they get the limelight. Without them our industry would be in shambles.  
The first myth we must dispel is that these producing agents have a special Entrepreneurial Gene that most of us don't have – sorry they don't. They are in fact boring; let me explain: These professionals have Routines and they Prioritize their day properly. They are able to stay with a task and see it through the end. And more importantly, in Real Estate, they love talking to people; they thrive on it.  
Let me share a few ideas that can help mold your determination into accomplishments:  
Take each task seriously, stay within a proper time limit, and perform it to the best of your ability. Take a quick break then go on to the next task and repeat. This will help you build a reputation of Reliability with yourself first, and soon others will notice.  
Ask for Business: Don't complicate this business - Real Estate is about people who have Real Estate on the brain. If you ask enough people you will come across the 10% who right now are thinking of Buying or Selling. Ask for business daily and learn to do it no matter what mood you are in.  
Discipline 4 hours of your day: You will probably work 10 hours a day in Real Estate; accept it and lean into it - but you have to be rigid and structured with only 4 of those 10 in order to see great success. Too much rigidity and you will break. The rest of your time is for appointments and meeting people to create connections.  
Discipline your morning routine with introspective actions - we call them activities that help you work on you; including your mind, spirit, and body. This Me-Time block of time is crucial to you performing at your best when you are an entrepreneur who deals with people.  
Let me conclude by saying that Success in Real estate is woven with the thread of Discipline; Discipline is NOT Punishment. Discipline is your ability to listen to your true self; stare temptations down; and Take Action despite the screams of fear trying to coax you into giving up.  - #8WeekSuccess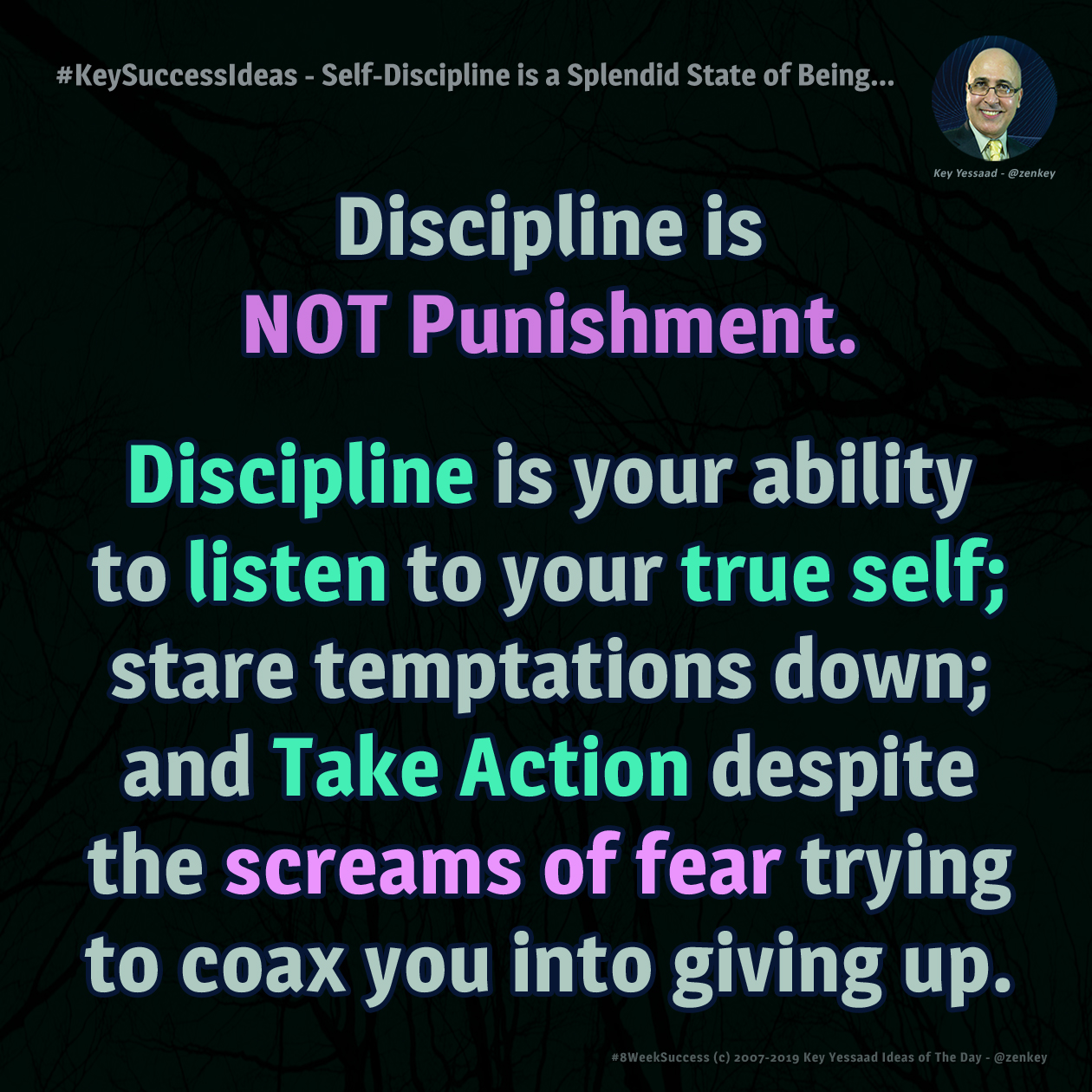 Written and Shared by Key Yessaad, Master Real Estate Strategist, Veteran Real Estate Trainer, Expert SEO Consultant, Internet Marketing Specialist, and Business Mentor/Coach. (910) 538-6610 - https://www.realestatewebtrainer.com/ 
Related Hashtags: #Discipline #TakeAction #MeTime #Entrepreneur #KeyTrainingWorkshops #RealEstate #RealEstateMentoring #Motivation #Inspiration #RealEstateBootCamp #Success #RealEstateSEO - #RealEstateCoaching #RealEstateTraining #KeySuccessTraining #LiveTrainingRE #Agents #RealEstateMotivation #Realtor
Categories: Key Success Ideas, Real Estate Business, Time Blocking