I am sure many of you remember watching horror movies, in which the main characters defend themselves from a killer or a monster by shielding themselves in their home, only to find out later that the horror was inside the home all along. #KeySuccessIdeas - Negative Self-Talk is the monster that wants to rule our Minds; but our minds should be homes for our Creativity not for monsters to wander freely. 
When you allow yourself to Repeat Negative Thoughts about your abilities, and let them roam freely in your mind, you are the one opening the door to the Demons of Stress, Fear, Failure and Agony.  You may not realize that you hold the key to keep the monsters at bay, and that you have the right sword to slay them if they attempts an incursion - it's called "Affirmations wrapped in Proactive Happiness." 
We must all learn to slay the monsters of Perfectionism, Procrastination, Hesitation, Doubt, Anger, and choose to proactively take on Depression, Anxiety, Guilt, Gloom, Despair, and more. Our first step on this journey is the realization that we hold the controls and that there is a pathway to Clarity. Your pathway maybe different from others, but it is yours; and therefore you must trust it. 
I have written in recent blogs about Mantras and Affirmations, and in this post I would like to probe Pro-Active Happiness. Pro-Active Happiness is the Deliberate Act of Taking Responsibility for one's Happiness, and to become a beacon of Hope in the Happiness of all those around you! Not an easy task, is it? 
 Let us first Affirm the following: "I am a Pro-Active Happiness Warrior!" 
Let us also realize that "Our Thoughts affect our Feelings!" So choosing what to think about, and how to think about it, matters a lot. If I let in all day long "Breaking News" from the News and assume it will not affect me; then I am committing the cardinal sin of Denial. 
"I become what I let into my mind!" If you hang out bars you will drink; if you hang out cigar shops you will smoke; if you hang out bookstore you will read; if you hangout casinos you will gamble. The environment you create around you will affect you. A Pro-Active Happiness Warrior becomes aware of their environment! 
This next one is hard to swallow for all of us: "We become the average of the 5 people we interact most in our life!" I saw many throughout the years try to avoid this truth, and it is because one or more of those five is a dear friend, or a family member they love deeply; but that person spews negativity all the time and makes them feel terrible about themselves, and yet they think love will wipe it away. Like I said this one is really really hard. If you choose to be a Pro-Active Happiness Warrior then you will know who to distance yourself from some - but let us all agree that changing them is an illusion; they have to want to change themselves, and many of them don't want to. 
Pro-Active Happiness Warriors are fully Accountable for their Happiness; are mindful of what they ingest mentally and physically; are keenly aware of their environment; understand the concentric rings of friendships and keep those closest who nurture love and gratitude; read good books and journal regularly; encourage others in their pursuit of happiness; probe their thoughts constructively; and most importantly never worry about being happy because they know they are happy!  - #8WeekSuccess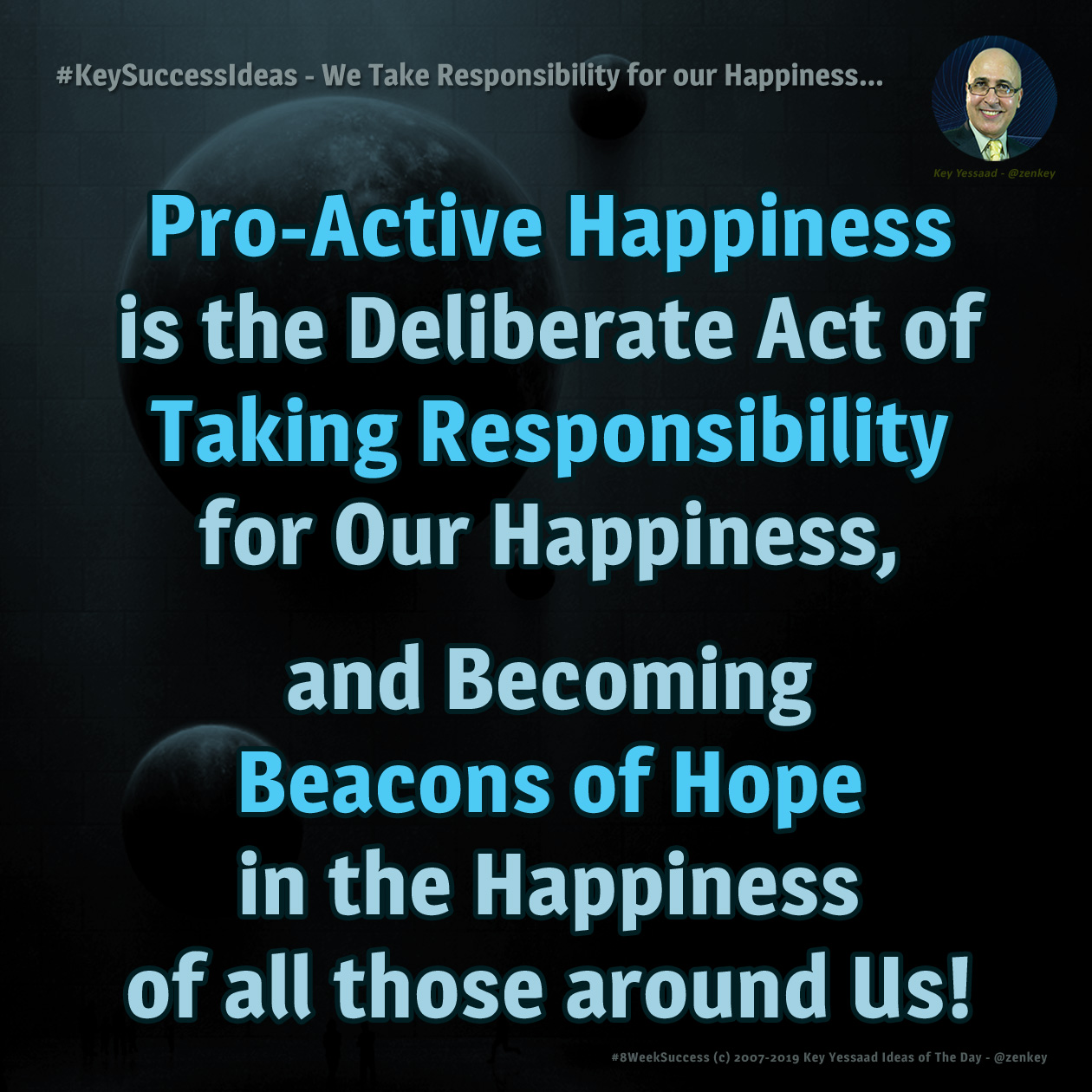 Written and Shared by Key Yessaad, Master Real Estate Strategist, Veteran Real Estate Trainer, Expert SEO Consultant, Internet Marketing Specialist, and Business Mentor/Coach. (910) 538-6610 - https://www.realestatewebtrainer.com/   
Related Hashtags: #ProActiveHappiness #HappinessWarrior #Happiness #Entrepreneur #KeyTrainingWorkshops #RealEstate #RealEstateMentoring #Motivation #Inspiration #RealEstateBootCamp #Success #RealEstateSEO - #RealEstateCoaching #RealEstateTraining #KeySuccessTraining #LiveTrainingRE #Agents #RealEstateMotivation #Realtor
Categories: Key Success Ideas, Inspirational Posts, Thought of the Day