This coming week, Tuesday August 20th through Thursday the 22nd, is my Week of Training with all of you on Live Interactive. #LiveTrainingRE - The three 3-Hours Workshops on the i-FAStTRAC Real Estate Training Program will focus on three topics: Social Media Engagement, Video Marketing, and Search Advertising. 
During the Social Media Class on Tuesday we will design a Strategic Plan to create more engagements and interactions; and Yes it is a Plan with deliberate implementation. The next day we will tackle the BIG Topic of Video Marketing, and it is a big one - during the session we will build the right tools for the right platforms and start using Videos for Education and Validation. We will then follow Video with Pay-per-Click Marketing on Thursday the 22nd; some call it Internet Advertising, others Search Engine Ads, and yet another way of calling it is Cost per Click Marketing with Keywords and Landing Pages. 
This will be a jam-packed week of Inbound Marketing Strategies for Real Estate Agents and Brokers so you can generate more leads and work with more consumers - Let's not forget that the hard work you do must lead to appointments; the magic of the Sale happens at the Appointment! 
Our program is Live and Interactive; all sessions are 3-Hours long and start at 1pm Eastern - Don't forget to download your Handout Booklets and see you all in Class: https://www.liveinteractivetraining.com/ - #RealEstateSuccess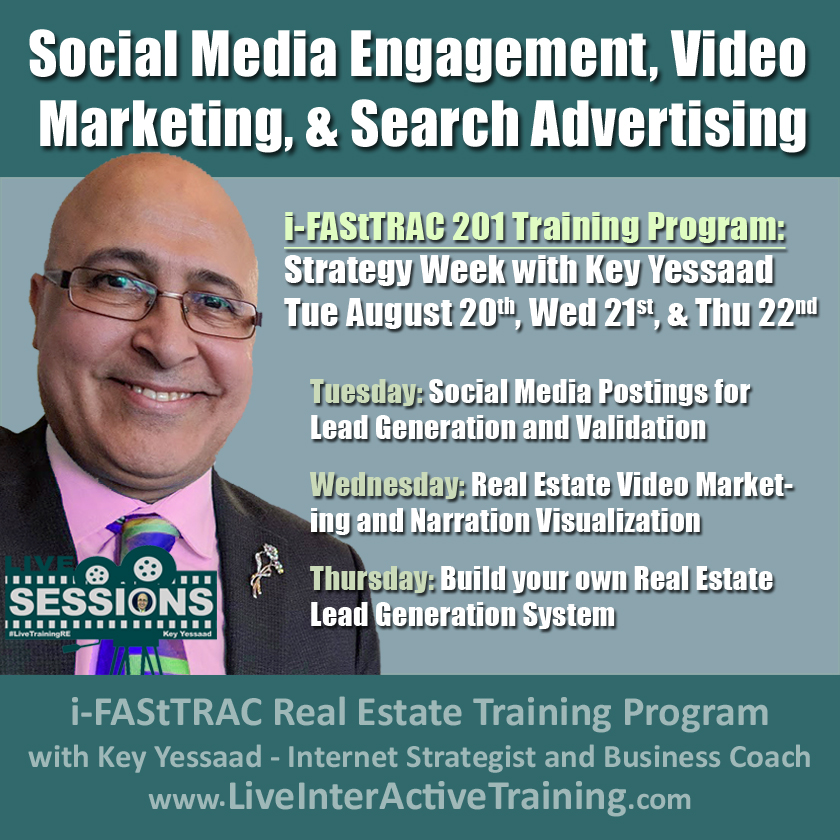 Written and Shared by Key Yessaad, Master Real Estate Strategist, Veteran Real Estate Trainer, Expert SEO Consultant, Internet Marketing Specialist, and Business Mentor/Coach. (910) 538-6610 - https://www.realestatewebtrainer.com/   
Related HashTags: #SocialMedia #VideoMarketing #PPCMarketing #RealEstate #Marketing #Realtor #RealEstateMarketing #Success #Motivation #Entrepreneur #RealEstateSEO #RealEstateTraining #RealEstateCoaching #RealEstateSuccess #KeySuccessTraining
Categories: i-FAStTRAC Training, Real Estate Trainings, Video SEO Marketing