Bravery should matter most in the life of an Entrepreneur; Bravery is how days are measured for Independent Contractors; #KeySuccessIdeas - Bravery is the least understood trait of Entrepreneurship - so let us unpack it in a creative thoughtful way. Bravery has nothing to do with Bravado or the Macho behavior of huffing and puffing one's ego to be noticed. It is also not simply reduced to the actions of a select group of heroes who rise up when a crisis is taking place - Bravery is available to all of us and we can tap into its power at will. In fact I advance that we must tap into its energy daily!  
Bravery is the Courage to Keep One's Word with the daily Monotony of One's Business Plan - That's it! Nothing more profound than that.  
Bravery happens in the silent moments between you and you when you start talking yourself out of doing that which you know must be done! The only true barrier to achievement is the lack of follow through - you said and planned to invite 20 people to the Business Event - You do it intentionally: You are Brave; You don't do it: You are not an Entrepreneur.  
See, it is simple, no room for excuses of big discussions about how unfair the universe is - you planned it then you did it to the best of your ability until you completed it; then you repeat that every day. The weakness of bravery is revealed when accolades are sought for doing the miraculous - that is not a meaningful attribute of Bravery; that is "Ego Stroking" and Hollywood Movies focus on that so much so that we forget the simple idea "Keep Your Word."  
And while we are at it the Opposite of Bravery is NOT Cowardice - it is "Being a Dabbler!" A Dabbler sways in the winds of excuses and lacks the fortitude to stay true to their character; until one day nothing of substance is left.  
When you sat yourself down and chose to embrace the life of an Entrepreneur, you unwittingly made a promise to yourself to Do what You Say you're going to Do - it is called Integrity; that is the life of Prosperity and Richness you have chosen, and you are the main conductor - Time to Step Up! - #8WeekSuccess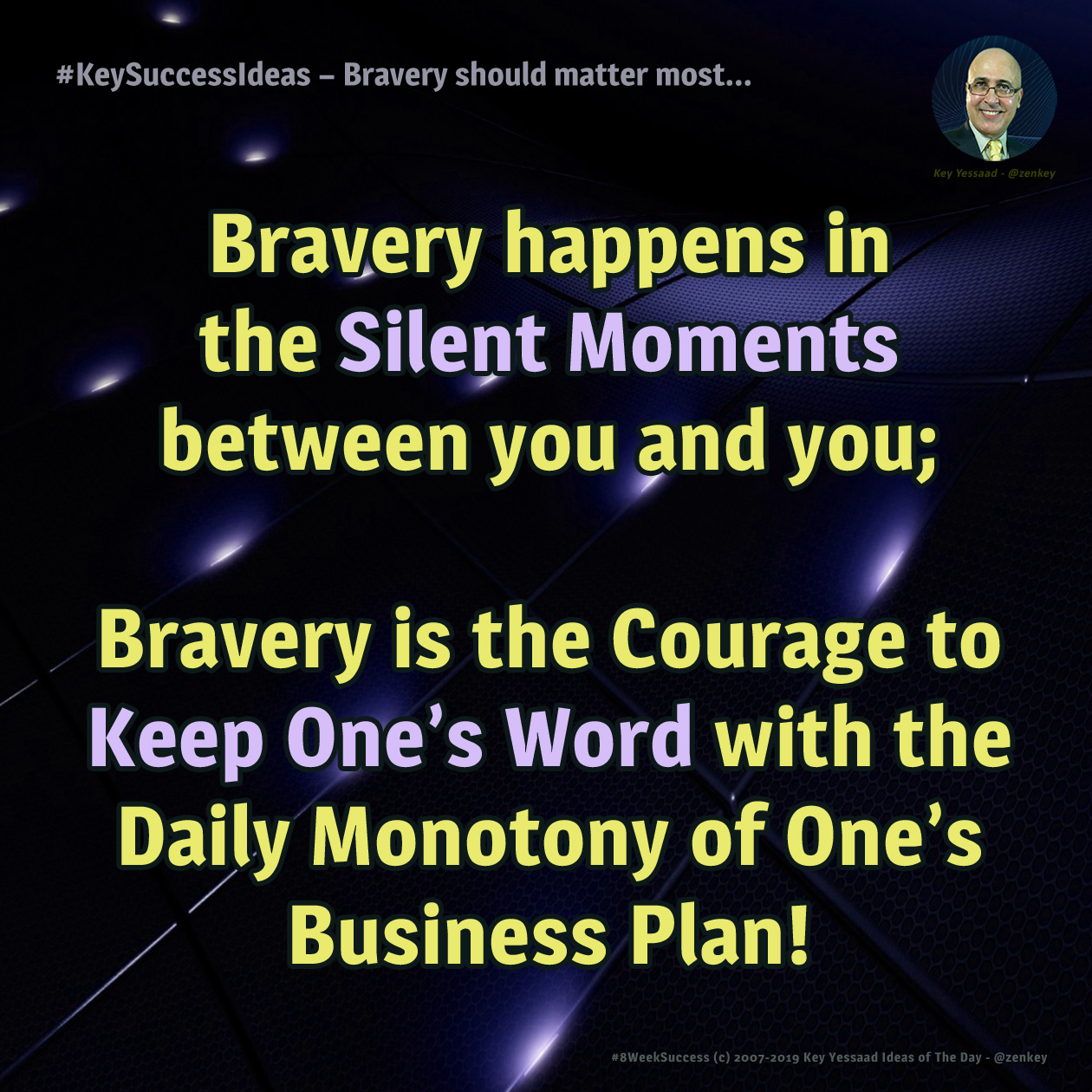 Written and Shared by Key Yessaad, Master Real Estate Strategist, Veteran Real Estate Trainer, Expert SEO Consultant, Internet Marketing Specialist, and Business Mentor/Coach. (910) 538-6610 - https://www.realestatewebtrainer.com/ 
Related Hashtags: #Bravery #KeepYourWord #Integrity #Entrepreneur #KeyTrainingWorkshops #RealEstate #RealEstateMentoring #Motivation #Inspiration #RealEstateBootCamp #Success #RealEstateSEO - #RealEstateCoaching #RealEstateTraining #KeySuccessTraining #LiveTrainingRE #Agents #RealEstateMotivation #Realtor
Categories: Key Success Ideas, Real Estate Business, Inspirational Posts