Today is Wednesday July 3rd and Kevin and I are going to focus on Real Estate Lead Management – Are there Habits and Systems that Real Estate Agents can learn to increase their Success Rate?
Did you know that 97% of Internet Leads are never converted? and the biggest culprit is lack of patience from the agent as well as a lack of a systematic approach.
Today we nudge our agents on proper systems and thinking that have been proven to work – we will see you in the i-FAStTRAC class.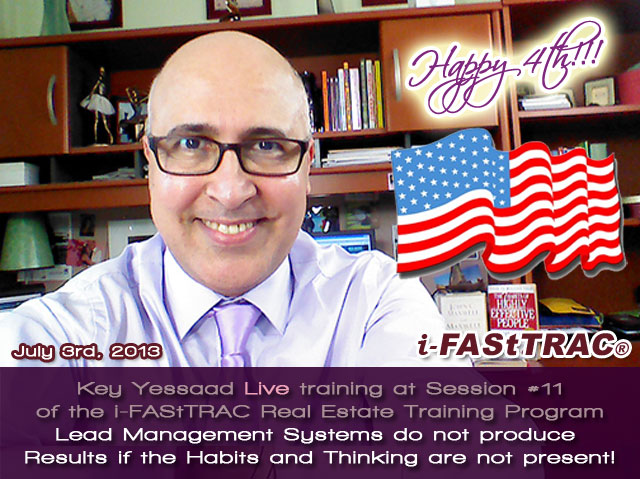 Key Yessaad (@zenkey), Real Estate Internet Trainer – Key is a Real Estate SEO Trainer and Internet Strategist focused on working with Real Estate Professionals and their Brokers to thrive using Internet Marketing. Key and Kevin Ahearn (@LiveInterActiv) started an intensive Real Estate Training Program in 2012 called i-FAStTRAC, with over 75 hours of course material, of which 60 hours are Live – they are interactive with point to point Live Video Feeds. The Program delves into the fundamentals of building your Real Estate Business, Prospecting, Lead Generation, and Internet Marketing with Advanced SEO Learning. Follow us on Twitter: #LiveTrainingRE or Google+: #LiveTrainingRE
Categories: i-FAStTRAC Training, Real Estate Trainings, Real Estate Prospecting