Michael Gerber shares in his book, The E-Myth Revisited, that each Business person who goes on to open a Business is made up of three (3) personas: The Entrepreneur, The Manager, and The Technician.
Most of you already understand the Entrepreneur and the Manager; The Technician is the trade that you have; for example you are a Baker who decides to open a Bakery – the technician in you knows everything about being a baker and has years of experience in it. The equivalent in Real Estate is an agent who goes on to open a Real Estate Brokerage.
Michael shares this nugget of truth: Every person who goes into business for themselves is actually three-people-in-one: The Entrepreneur, The Manager, and the Technician. The Problem of running the business becomes compounded when each personality wants to be the boss – but none of them wants to have a boss! Ponder that thought.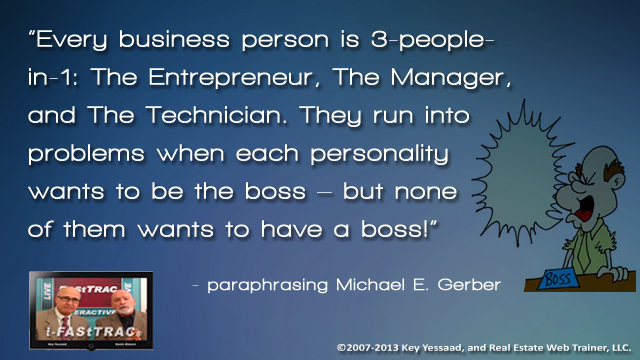 Key Yessaad (@zenkey), Real Estate Internet Trainer – Key is a Real Estate SEO Trainer and Internet Strategist focused on working with Real Estate Professionals and their Brokers to thrive using Internet Marketing. Key and Kevin Ahearn (@LiveInterActiv) started an intensive Real Estate Training Program in 2012 called i-FAStTRAC, with over 75 hours of course material, of which 60 hours are Live – they are interactive with point to point Live Video Feeds. The Program delves into the fundamentals of building your Real Estate Business, Prospecting, Lead Generation, and Internet Marketing with Advanced SEO Learning. Follow us on Twitter: #LiveTrainingRE or Google+: #LiveTrainingRE
Categories: Real Estate Business, Thought of the Day, Inspirational Posts