Michael Gerber harshly and correctly makes this statement in his book The E-Myth Revisited: 'Your Business is nothing more than a distinct reflection of who you are. If your thinking is sloppy, your business will be sloppy. If you are disorganized, your business will be disorganized. If you are greedy, your employees will be greedy, giving you less and less of themselves and always asking for more.'
As Kevin and I move through the Real Estate Training Program i-FAStTRAC, we are cognizant that many of our agents are willing to work hard, but they work hard sometimes on the wrong activities; which leads them to be discouraged and abandon a career they love.
Kevin will nudge agents towards Prospecting by focusing on Target Marketing and Farming, and I will illuminate how Web Crawlers work – for example: Did you know that when you are searching the internet you are not Searching the internet? I know sounds odd – but it is this type of understanding that gives you the best Search Engine Visibility. See you in Class shortly!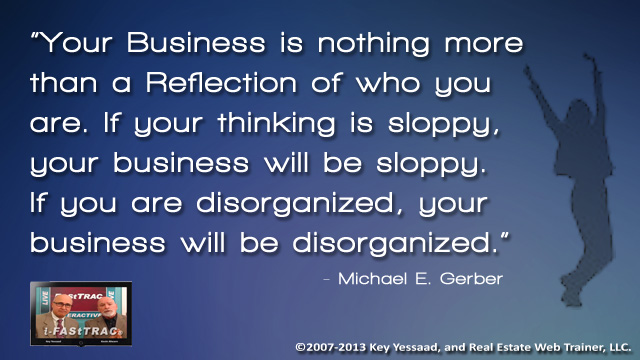 Key Yessaad (@zenkey), Real Estate Internet Trainer – Key is a Real Estate SEO Trainer and Internet Strategist focused on working with Real Estate Professionals and their Brokers to thrive using Internet Marketing. Key and Kevin Ahearn (@LiveInterActiv) started an intensive Real Estate Training Program in 2012 called i-FAStTRAC, with over 75 hours of course material, of which 60 hours are Live – they are interactive with point to point Live Video Feeds. The Program delves into the fundamentals of building your Real Estate Business, Prospecting, Lead Generation, and Internet Marketing with Advanced SEO Learning. Follow us on Twitter: #LiveTrainingRE or Google+: #LiveTrainingRE
Categories: Real Estate Trainings, Real Estate Business, Real Estate Prospecting