Today we jump into session 5 of our Real Estate Training Program and this quote from Anthony Greenbank sets the tone: "To live through an impossible situation, you don't need the reflexes of a Grand Prix driver, the muscles of a Hercules, or the mind of an Einstein. You simply need to know what to do."
Kevin will start part I of of Prioritized Proactive Prospecting with the Power of the Open House in Prospecting, and I will open our Agents' minds to the Psychology of Search Engines and the proper thinking required to become a successful Internet Marketer with proper Search Engine Optimization Results.
The value of traditional Marketing is no longer as powerful as when it is intertwined with Inbound Marketing, and Search plays a big role – in essence our new breed of Real Estate Professionals must learn to get to Search Engines before they can build the proper bridge of working with their Real Estate Buyers and Sellers.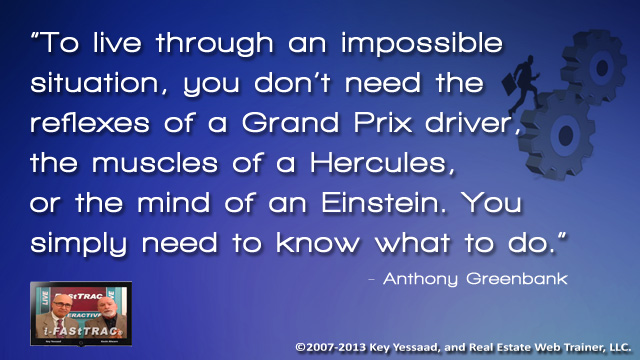 Key Yessaad (@zenkey), Real Estate Internet Trainer – Key is a Real Estate SEO Trainer and Internet Strategist focused on working with Real Estate Professionals and their Brokers to thrive using Internet Marketing. Key and Kevin Ahearn (@LiveInterActiv) started an intensive Real Estate Training Program in 2012 called i-FAStTRAC, with over 75 hours of course material, of which 60 hours are Live – they are interactive with point to point Live Video Feeds. The Program delves into the fundamentals of building your Real Estate Business, Prospecting, Lead Generation, and Internet Marketing with Advanced SEO Learning. Follow us on Twitter: #LiveTrainingRE or Google+: #LiveTrainingRE
Categories: Real Estate Trainings, Thought of the Day, Inspirational Posts