Real Estate Professionals must have a multi-layered Internet Marketing Bio, and even when they learn how to write one, and where and how to post it in the multiple Channels of Visibility, they come to face a type of Paralysis - The Fear of Loss.
No they are not afraid of losing something they have, or a market share they have already gained – No; they are afraid of losing market share they don't have. I usually put this way: Real Estate is one of the few industries in which Agents are afraid of losing business they don't have. This is akin to Ford Car Salesperson, working at Ford Auto Dealership, who wakes up in the middle of the night worried that he has not sold enough BMW vehicles.
This paralysis in Real Estate Agents stems from the fact that they earn Real Estate Licenses at the State Level, and are able to work with Buyers and Sellers throughout the whole State; but they are true experts usually at the local neighborhood level, not all the counties of the state. This local expertise is valued greatly by both Sellers and Buyers, but agents are afraid or mentioning a narrow expertise in their Marketing Bio – this fear leads them to talk about the about the Real Estate Business in General. They miss this important fact: Real Estate SEO is driven by localities NOT States.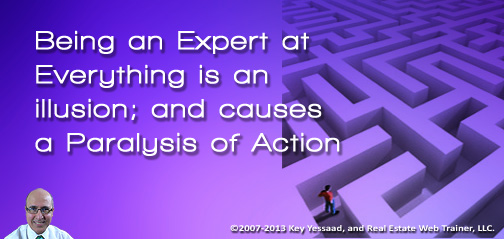 Key Yessaad, Real Estate Internet Trainer – Key is a Real Estate SEO Trainer and Internet Strategist focused on working with Real Estate Professionals and their Brokers to thrive using Internet Marketing. Key and Kevin Ahearn started an intensive Real Estate Training Program in 2012 called i-FAStTRAC, with over 75 hours of course material, of which 60 hours are Live over the Internet – they are interactive with point to point Live Video Feeds. The Program delves into the fundamentals of building your Real Estate Business, Prospecting, Lead Generation, and Internet Marketing with Advanced SEO Learning. Follow us on Twitter: #LiveTrainingRE or Google+: #LiveTrainingRE
Categories: Real Estate Trainings, Real Estate SEO, Real Estate Websites