What is the purpose of an Internet Marketing Bio? The internet has allowed Real Estate Sellers and Buyers to use the internet as a Gatekeeper between them and Real Estate Professionals; a very empowering feeling. But the internet also offers Real Estate Professionals their ability to get to be known as well – ponder this idea: What if your 'would-be customers' wanted to meet before they meet you? Think about that! What would they use? Well; the internet! In Session 7 and 8 of I-FAStTRAC I will be training our Agents and Brokers on the best ingredients for a dynamic Internet Marketing Bio for Real Estate Professionals. Here is the description of today's session: 'What is a Marketing Bio and how do I deploy one? Your Presence on the Internet needs to be multifaceted and Googleable; Your clients will Google you behind your back to validate you – How do you create an Internet Presence beyond Social Media? What should you include in your Marketing Bio? and what does Google Look for and how long should my Bio be?' Hope to visit with you at the Training.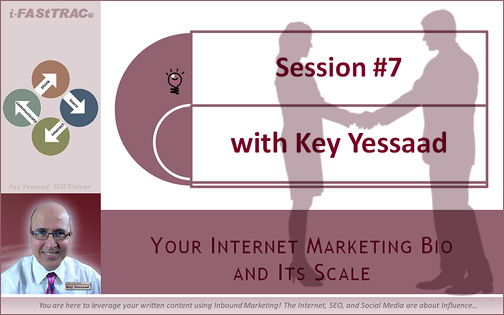 Key Yessaad, Real Estate Business Coach and Internet Strategist – in 2013 Kevin Ahearn and Introduced an integrated Real Estate Training called i-FAStTRAC, a 10-Week 50-Hour course on the fundamentals of building your Real Estate Business, Prospecting, Lead Generation, and Internet Marketing with Advanced SEO Learning. Learn more at LiveInteractiveTraining.com.
Daily Event Sponsors: Franklin NC Real Estate - Brevard NC Real Estate - Warwick RI Real Estate
Categories: Real Estate Trainings, Real Estate SEO, Internet Marketing
Comments are disabled.