When skill, intention, training, and knowledge are equalized there is only one area that will reveal the Real Estate Agent who will succeed versus the one who will struggle to make a good living; it is the implementation of a trusted Personal-Management System. What is a personal-management system? It is a trusted way of interacting with one's business plan, calendar, tasks, communications, activities, habits, and your most precious commodity: Time.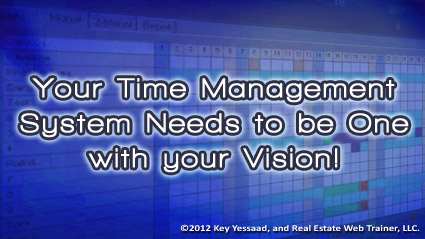 It is not a piece of software but a way of relating to your most efficient actions and follow-ups. For example some use Outlook and related tools to organize all of their business; others use Gmail and its related tools to do just the same; I even know some who use paper calendars with written notes to deliver the best service and design to their business. As I said it is not a set of software or newfangled tablets you need to buy; it is more habit driven than tools driven.
Here are some thoughts and Rules you ought to consider:
Rule #1: You must use One (1) and only one System for it to become powerful.


Rule #2: You Must stop using your mind as storage and start dumping all of your mental to-do activities into your system.


Rule #3: Perform Daily reviews and updates on your system and align them with your calendar.


Rule #4: Perform a Weekly Review of your system preferable on a Friday afternoon.


Rule #5: Make sure your Smartphone, tablets, and computers are all synching.


Rule #6: take action on the activities you promise you will undertake and try not to deviate too much.


Rule #7: Never, ever forget to schedule Prospecting Activities in your System.
This is a quick blog that describes in general terms what a Personal-Management System is, follow my other posts where I deal in details with each aspect of these ideas.
Key Yessaad, Real Estate Business Strategist
Categories: Thought of the Day, Time Blocking, Real Estate Business