Why are Habits so crucial to the Success of Real Estate Professionals? - #KeyWorkshops - Repetitive Good Activities produce Predictable Outcomes; everyone knows that - but this knowing does not always translate into Daily Action with Real Estate Agents; and the culprit is the freedom they have at approaching their Business. A Real Estate Career is an Entrepreneurial Endeavor and therefore the workday is created by the Professionals themselves - NOT by a Big Boss surrounded by layers of Managers and Protocol. 
I am holding a Presentation and Workshop for 3 hours focusing on this topic with about 70 such Professionals, so let me share with you my readers one of the Habits that is at the heart of Success in this amazing career. Scripts; Yes the ability to create predictable interaction Scripts that are situational. Let's breakdown this idea into details; Take the simple act of introducing yourself to the public; say on an elevator; or at a Social Event - most brokers assume every smart Real Estate Agent knows how to introduce themselves and knows what to place in that short script; and you would be greatly mistaken.  
We need to not only give our Real Estate Agents Sample Introduction Scripts that they can adapt to themselves; we need to go even further and show them what the major ingredients of a well-written Elevator Speech are. So let me do this with you right now: 
An Elevator Speech is a Clear, Brief Message or "commercial" about you. It communicates who you are, what you do, and your local Expertise; It is typically about 30 to 60 seconds long, the time it takes people to ride an elevator. PS: It is not meant to be used only on Elevators (obviously) - if you rehearse this script well you will avoid being tongue-tied when meeting potential clients.  
The 4 major ingredients of this script: 1. Your Name; 2. The Brokerage you work for; 3. The Locations you Specialize in and some Qualifications; and 4. Your Value Proposition. 
Here are 2 examples you can study and along with the script recipe you can now make your own: 
My Name is Sally, Sally Smith and I am Realtor with EXIT Realty - I specialize in Helping Buyers and Sellers in Lexington, Columbia, and the Lake Murray Area. I love helping my clients make good Real Estate Decisions - What do you do? 
My name is Bob, Bob Anderson; I have been a Realtor for over 5 years helping our neighbors Sell their homes for the highest price in Wilmington, Landfall, and Wrightsville Beach. I am with ABC Realty and I love the joy my job brings to my clients - Tell me a little about you! 
You see quite simple; but don't seduced by the ease of this exercise by simply looking at the sample Elevator Speeches you were given; go back to the recipe of the Script and that will guide you the rest of your career. This is the power of scripting; not just having them and practicing them - but also learning the way you put them together yourself. 
This is one of the eight habits I will be stressing today; I will use Prospecting Scripts instead of the Elevator Speech, but the ideas are exactly the same. Our Real Estate Professionals must fall in love the Habit of turning every situation into a Script and then program them in their brain with repetition and practice.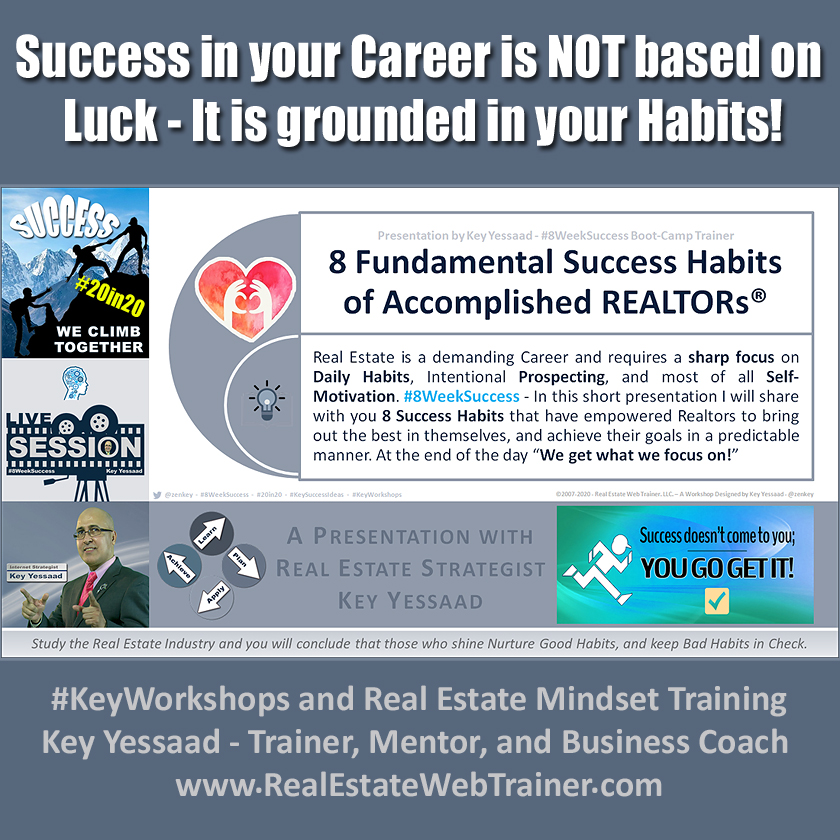 Written and Shared by Key Yessaad. Key is a Real Estate Mindset Trainer, Internet Strategist, and creator of the #8WeekSuccess Boot-Camp Program. Key has been a Trainer and Business Coach nearing 2 decades focusing primarily on empowering Agents develop the Skills and Habits of Prospecting, Web Services, SEO Strategies, Time Blocking, Blogging, Internet Marketing, Lead Generation, and Listing Success. (910) 538-6610 
Related Hashtags: #Habits #Scripts #ElevatorSpeech #Entrepreneur #20in20 #KeyWorkshops #RealEstateBootCamp #RealEstate #Inspiration #Success #RealEstateSEO - #RealEstateMentoring #RealEstateCoaching #Motivation #RealEstateTraining #KeySuccessTraining #LiveTrainingRE #Agents #RealEstateMotivation #Realtor
Categories: Key Workshops Training, Real Estate Prospecting, Real Estate Business